Europe's Refugee Crisis: Slovenia to Deploy Its Army
Prime Minister Miro Cerar says the migrants and refugees who are entering from Croatia are overwhelming the country.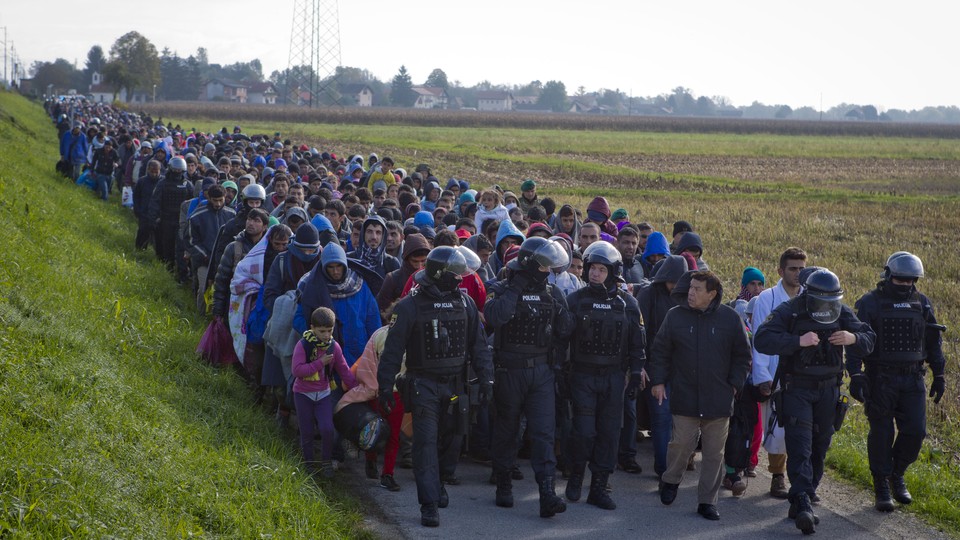 Slovenia's parliament is expected to approve the use of the army to manage the flow of migrants and refugees entering the tiny former Yugoslav republic.
Two-thirds of the country's parliament must vote to approve the use of the army. The change will remain in effect for three months.
Officials say 18,469 migrants and refugees (for an explanation on how the two differ, see here) entered the country since last Friday (October 16); 5,092 people crossed the border on Tuesday. The migrants and refugees who are entering from Croatia are overwhelming the country, Prime Minister Miro Cerar said.
"It is wrong to foster the illusion that it is possible for a small nation of two million people to stop, solve, and rectify a situation where even much bigger EU member states have failed," he said in comments that were reported by the BBC.
Slovenia earlier opened its borders to most of the 5,000 people stranded along its frontier with Croatia. As my colleague Marina Koren reported Monday, the country had said it would only allow in 2,500 each day.
But Ranko Ostojic, Croatia's interior minister, told the Associated Press his country was yet to receive a reply on where Slovenia wanted to receive the migrants and refugees. He said Croatia expects Slovenia to take in half the number that arrives in Croatia each day.
"If we are receiving 10,000, then 5,000 people have to be transited to Slovenia," he said. "If the number in Croatia is 5,000 then it's 2,500, or 50 percent."
As Marina pointed out:
Central European countries are passing around the blame for the bottleneck. Slovenia says Croatia ignored its quotas for migrants and is transporting large groups of people to their border. Croatian officials say Slovenia has changed several times the number of migrants it says it is willing to accept, and accuse Greece of not doing enough to slow the flood of people entering the region. Serbia quarreled with Croatia last month over the latter's border restrictions, which have since been lifted. And Hungary blames pretty much everyone.
At issue is the hundreds of thousands of people who are fleeing the fighting in Syria and elsewhere. They are hoping to make their way to Germany and other European Union member states whose governments have been welcoming of the newcomers. The migrant and refugee crisis is the most severe seen in the region since World War II.
For many of these migrants and refugees, Greece is often the first point of entry into Europe. Both the International Organization for Migration and the UN refugee agency estimate that more than half million migrants and refugees have entered Greece this year.