Just Who Is Russia Targeting in Syria?
Putin's terrorists aren't the same as Obama's.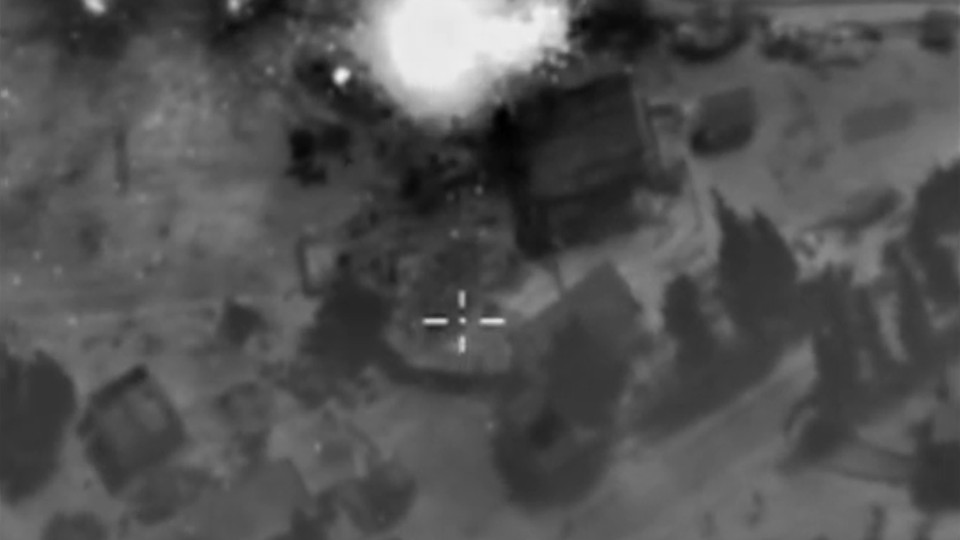 On Wednesday, Russia began bombing targets in Syria that the Kremlin has described as "terrorist organizations." But Russia's terrorists aren't the same as America's, and while U.S. strikes in the country have targeted ISIS and al-Qaeda affiliates, Russia, as The New York Times reported Thursday, joins its ally, Syrian President Bashar al-Assad, in making "little distinction among Islamist insurgent groups," seeing those distinctions as "meaningless hairsplitting." In a Pentagon press conference on Wednesday, U.S. Defense Secretary Ashton Carter said that Russia "may well have" struck "in areas where ISIL was not present."
Here's where the Russian bombs fell, relative to ISIS positions (the splotches of gray and yellow and gray), on the first day of the operation, as mapped by the Institute for the Study of War (ISW):
---
Russian Airstrikes in Syria, September 30, 2015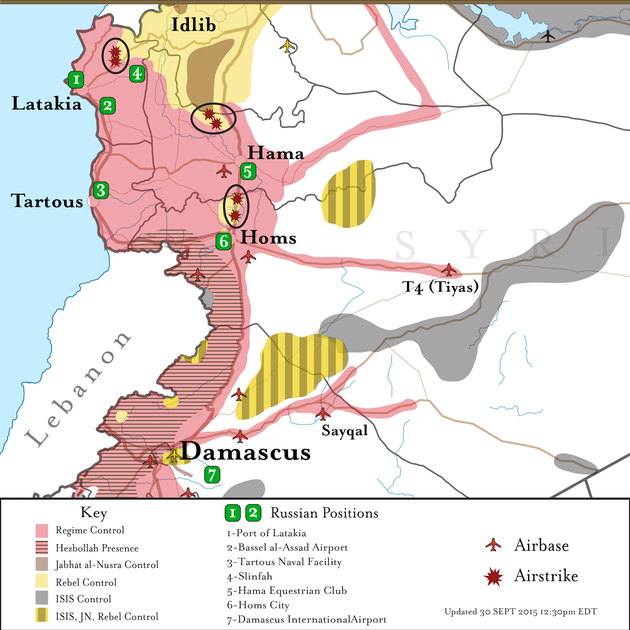 ---
ISW compiled the maps from Syrian and international news sources, as well as Russian news sources and Syrian activists' social-media accounts. The map shows that, with the possible exception of a patch of territory in Idlib province controlled by a mix of different rebel groups including ISIS, the Russian strikes targeted areas significantly west of Islamic State strongholds in Syria. ISW's Genevieve Casagrande and Christopher Kozak explained (the emphasis is theirs):
The Russian Defense Ministry claimed that the airstrikes targeted eight Islamic State of Iraq and al-Sham (ISIS) positions in total. The Syrian regime also released statements confirming Russian airstrikes in Homs and Hama, claiming that the airstrikes targeted both ISIS and al-Qaeda affiliated militants, likely referring to Syrian al-Qaeda affiliate Jabhat al-Nusra. However, local Syrian sources claim the airstrikes exclusively targeted rebel positions, including the headquarters of Free Syrian Army-affiliated, Western-backed TOW anti-tank missile recipient al-Izza Gathering in the town of Al Latamneh, rather than ISIS-held positions.
The Washington Post's Liz Sly pointed out on Twitter that the view of ISIS positions looks different from Russia.
Russia's bombing continued Thursday, resulting, according to Reuters, in "what appeared to be Russia's first strikes on a known Islamic State-held target," an airbase in the group's de facto capital of Raqqa. But elsewhere, according to The New York Times, Thursday's airstrikes also "appeared to target the Army of Conquest, a coalition of insurgent groups that includes the Nusra Front, the hard-line Islamist group Ahrar al-Sham, and a range of less extreme Islamist groups—all of which are opposed to the Islamic State."
The Times also shed light on why Russia might have targeted that group in particular—and why now.
This year, the Army of Conquest dealt Syrian forces a serious setback by seizing the city of Idlib, and later the entire province, advances that posed the war's sharpest threat to the coastal areas where support for Mr. Assad is strongest. Russia has a naval station on the coast and has concentrated much of its recent military buildup there as well, so Thursday's strike could be seen as a force-protection measure, taking out the insurgents closest to Russian installations before moving on to other operations.
In his Pentagon press conference Wednesday, Carter cited what he called the "logical contradiction" in Russia's "intent to fight ISIL on the one hand, and to support Bashar al-Assad, and his regime, on the other," insisting that fighting ISIS also requires pursuing a political transition that would ultimately result in Assad's leaving office. Russia's approach, he said, was "doomed to failure."
Then again, it's not clear that bombing members of opposing sides in Syria's civil war, as the United States has done, is a logically consistent position either—or that it has a much greater chance of success.