A Russia-Backed Ground Offensive in Syria
Syrian troops and allied forces are readying for an attack against insurgents "soon."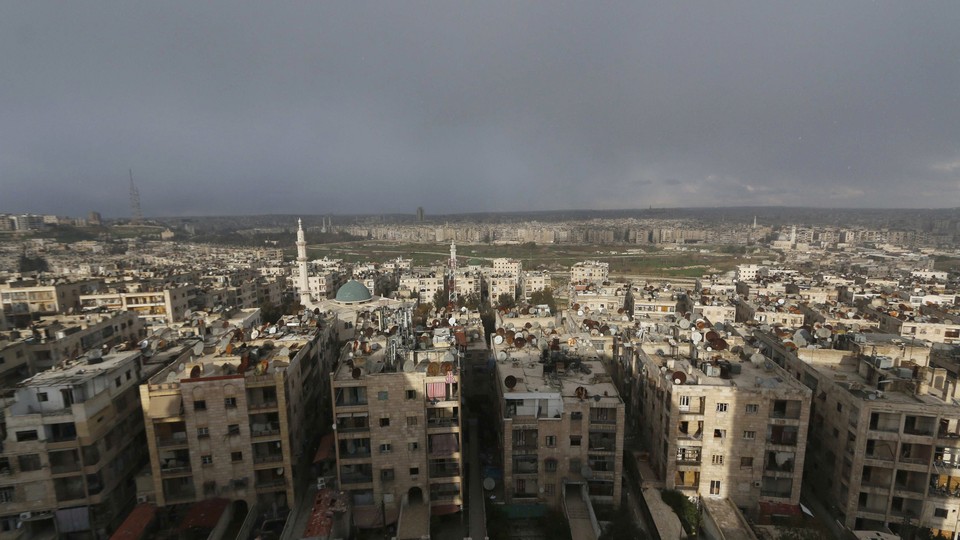 Multiple forces are preparing for a ground offensive against insurgents in the Aleppo area, Reuters reported Tuesday.
The Syrian military, along with Iranian and Hezbollah forces, will be backed by Russian airstrikes, the wire service said, citing two senior officials in the region. The officials said "thousands" of Iranian troops have arrived there to participate in the attack, which will occur "soon." More from Reuters:
"The big battle preparations in that area are clear," said one of the officials. "There is a large mobilization of the Syrian army ... elite Hezbollah fighters, and thousands of Iranians who arrived in stages in recent days," said the official.

The second official, who is close to the Syrian government, said: "The decision to launch the battle of Aleppo has been taken ... It is no longer hidden that thousands of Iranians are now in Syria and their role is fundamental."
The Syrian government, anti-Assad opposition forces, and the Islamic State are currently fighting for control of Aleppo, Syria's largest city. In 2012, rebel groups controlled large chunks of the city, but lost ground the following year to Syrian troops backed by Hezbollah. In recent weeks, Islamic State militants have driven some rebels out of city limits.
The U.S.-led coalition against the Islamic State has carried out airstrikes in the northern part of Aleppo. Late last month, Russia began launching its own strikes, saying it would target the terrorist group, but much of the bombing has occurred in areas held by opposition groups.