No Survivors in Russian Airliner Crash in Egypt
A commercial airplane carrying 224 people crashed in the Sinai Peninsula on Saturday.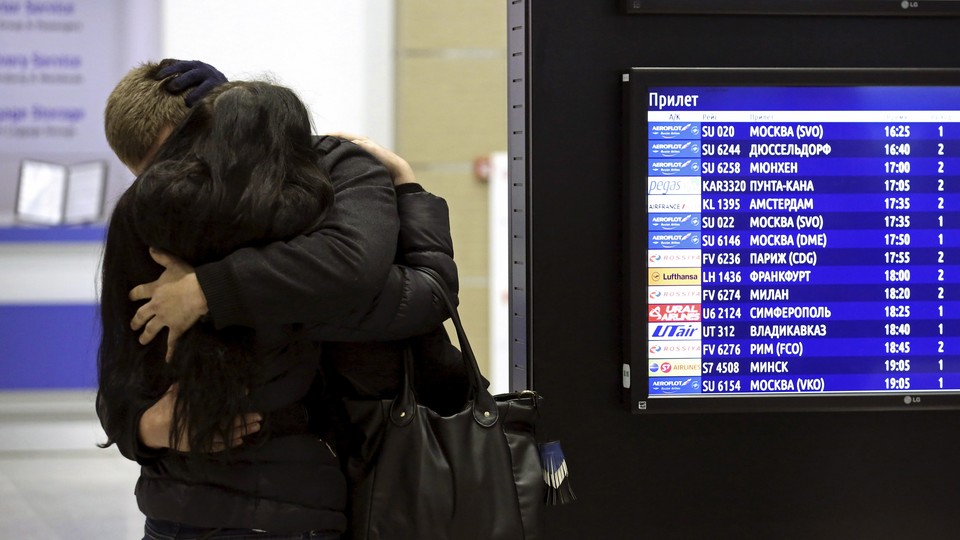 Updated on October 31 at 6:09 p.m.
A Russian passenger plane carrying 224 people crashed Saturday morning in a remote area of Egypt's Sinai Peninsula, Egyptian officials said.
There were no survivors, the Russian embassy in Cairo said on its Twitter account. The passengers were 138 women, 62 men, and 17 children, according to the Associated Press. There were seven crew members. All the passengers were Russian except for three, who were Ukrainian.
The commercial plane, operated by Russian airline Metrojet, was bound for St. Petersburg, Russia. It took off shortly before 6 a.m. local time from the airport in Sharm el-Sheikh, a popular Red Sea tourist spot for Russians, located at the southern tip of the peninsula, according to the AP. About 20 minutes after taking off, the aircraft disappeared from flight-tracking systems. Egyptian aviation officials said the pilot had reported technical difficulties and was planning to land at the nearest airport before losing contact with air traffic controllers. The airplane had been flying at an altitude of about 30,000 feet when communication was lost.
Egyptian authorities found the wreckage in the mountainous Hassana area, south of the city of el-Arish. Egypt had dispatched 50 ambulances to the scene. The cause of the crash is not yet known.
"Together with Egyptian aviation authorities, we will investigate this accident at the site," Maxim Sokolov, Russia's transportation minister, said Saturday, according to Russian news agency TASS. "We can already say that it was not an incident. A catastrophe happened with our airliner."
Russian President Vladimir Putin declared Sunday to be a national day of mourning and ordered an investigation into the crash.
Reuters has details of the crash site in Sinai:
"I now see a tragic scene," an Egyptian security officer at the scene told Reuters by telephone. "A lot of dead on the ground and many who died whilst strapped to their seats.

"The plane split into two, a small part on the tail end that burned and a larger part that crashed into a rock. We have extracted at least 100 bodies and the rest are still inside," the officer, who requested anonymity, said.
Reuters has video here of the tearful scene at St. Petersburg, where people were waiting to greet passengers aboard the downed plane.
Egyptian security forces have been fighting an Islamic State insurgency in the northern region of the Sinai peninsula, but there was no indication militant activity had downed the plane, according to The Guardian.
AP reports that Russian investigators are searching the Moscow offices of Metrojet and are questioning its employees.