Russia's Violation of Airspace 'Doesn't Look Like An Accident'
The NATO secretary-general's remarks mark an escalation in the rhetoric between the alliance and Russia over Moscow's actions in the Syrian civil war.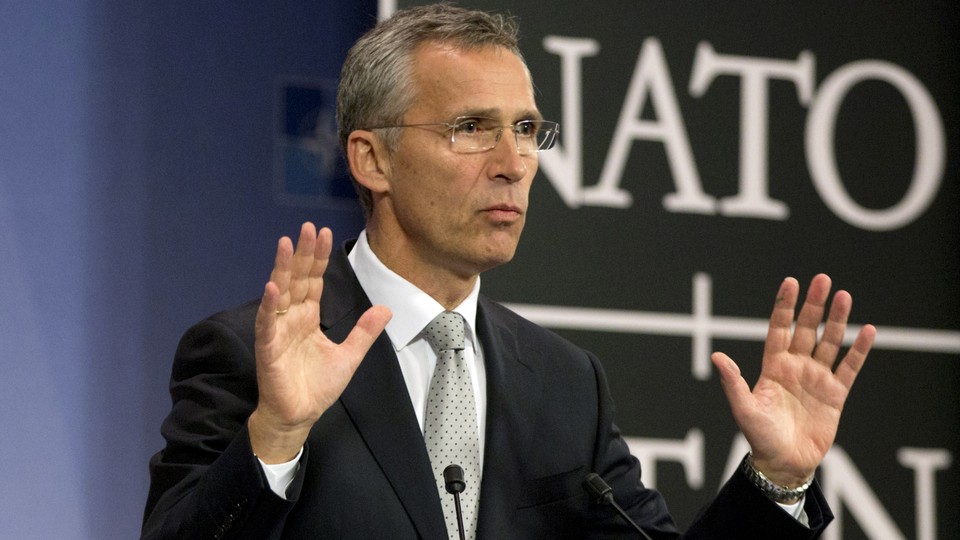 NATO Secretary-General Jens Stoltenberg says Russia's violation of Turkey's airspace "doesn't look like an accident." The comments mark an escalation in the rhetoric between the alliance and Russia over Moscow's actions in the Syrian civil war on behalf of President Bashar al-Assad.
As we reported Monday, Turkey said a Russian warplane violated its airspace over the weekend, but left after its F-16s intercepted the aircraft. Russia called the violation an accident, and said the incident was being used by NATO as anti-Russian propaganda.
At a news conference in Brussels on Tuesday, Stoltenberg noted that there were, in fact, two violations of Turkish airspace by Russian warplanes, and those violations "lasted for a long time."
"For us this doesn't look like an accident," he said, calling the violations "unacceptable."
The U.S. and its fellow NATO members have criticized Russia's airstrikes in Syria. Russia says its planes are only targeting the Islamic State and other terrorist groups, but Western-backed, anti-Assad rebels have also been targeted. And while Russia says its actions in Syria will be confined to airstrikes, Admiral Vladimir Komoyedov, the head of the defense committee in Russia's parliament, said Monday, "It is likely that groups of Russian volunteers will appear in the ranks of the Syrian army as combat participants."
That would mark a replication of the playbook Russia has used in Ukraine where hundreds of volunteers are fighting on the side of the pro-Russian separatists. And if that were to happen in Syria, it would mark the first time Russians have been involved in ground combat operations outside Europe since the country's withdrawal from Afghanistan in the late 1980s. President Obama, at a news conference last Friday, warned that Russia's actions in Syria would lead it into a "quagmire."
But the U.S. role in Syria has itself been criticized as ineffectual. Its attempts to train anti-Assad rebels have yielded embarrassing results. Though The New York Times reported Monday that the U.S.-led coalition has "begun preparing to open a major front in northeastern Syria," aiming to put pressure on Raqqa, which is controlled by the Islamic State.