Russia Is Really Just Showing Off in Syria at This Point
The Defense Ministry said 26 medium-range cruise missiles were fired into Syria from ships nearly 1,000 miles away.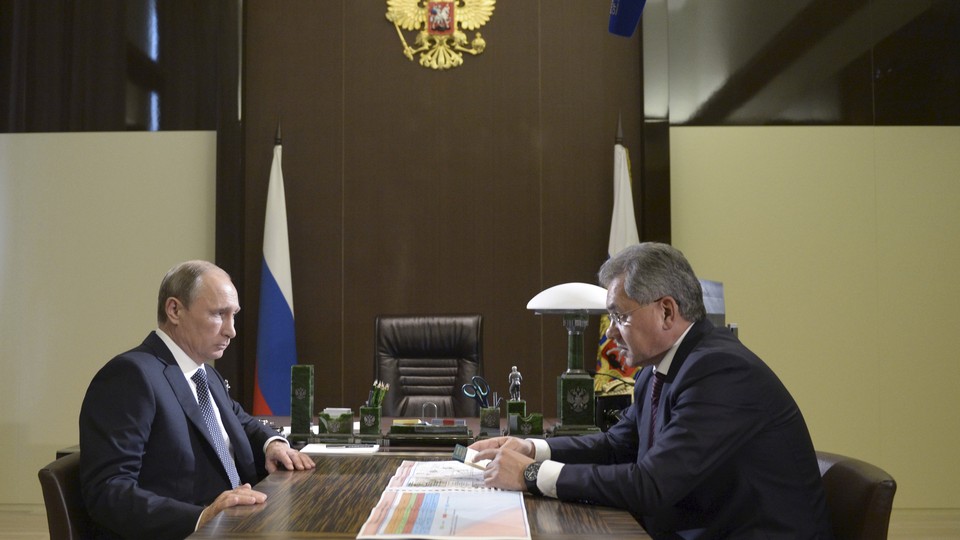 On Wednesday, Russia fired 26 medium-range cruise missiles into Syria. According to reports, the missiles, after traveling nearly 1,000 miles from four warships in the Caspian Sea through both Iran and Iraq, hit 11 different targets.
Which targets specifically? Following a week in which Russia has twice violated Turkish airspace and hit non-ISIS targets by air to the dismay of the United States and a number of its allies, Russian officials wouldn't say. What Defense Minister Sergei Shoigu did say in a televised interview with Russian President Vladimir Putin is that all the targets had been destroyed and no civilian infrastructure had been damaged. (Russian state-run media reported the targets belonged to the Islamic State.)
"The intensity of strikes is growing," Shoigu explained, noting that 112 targets have been hit since Russia started its airstrikes last week. This newest Russian escalation coincides with a ground offensive by forces loyal to Syrian President Bashar Assad, which is being coordinated with support from Russia, Iran, and Hezbollah, the Iran-back Shiite militant group that is based in Lebanon.
In many ways, this offensive doesn't entirely appear to be about Syria. That the Russian missiles traveled through two countries to strike their targets is not only a show of military might, but also a projection of status. It was mostly the former that Putin sought to play up on Wednesday.
"That we fired from the territory of the Caspian Sea, at a range greater than 1,500 kilometers, and hit targets precisely, this shows high qualifications," Putin said in the interview.
Meanwhile, on Wednesday, ​the United States sought to further distance itself from Russia's actions by ruling out any kind of strategic alliance with the country. U.S. Defense Secretary Ash Carter, during a press briefing with Italy's Defense Minister, explained:
We are not prepared to cooperate in strategy which, as we explained, is flawed, tragically flawed, on the Russians' part. The U.S. is not cooperating with Russia in that regard.