Ready or Not, the Third Intifada May Be Here
A spike in violent attacks on Wednesday make renewed conflict between Israelis and Palestinians impossible to ignore.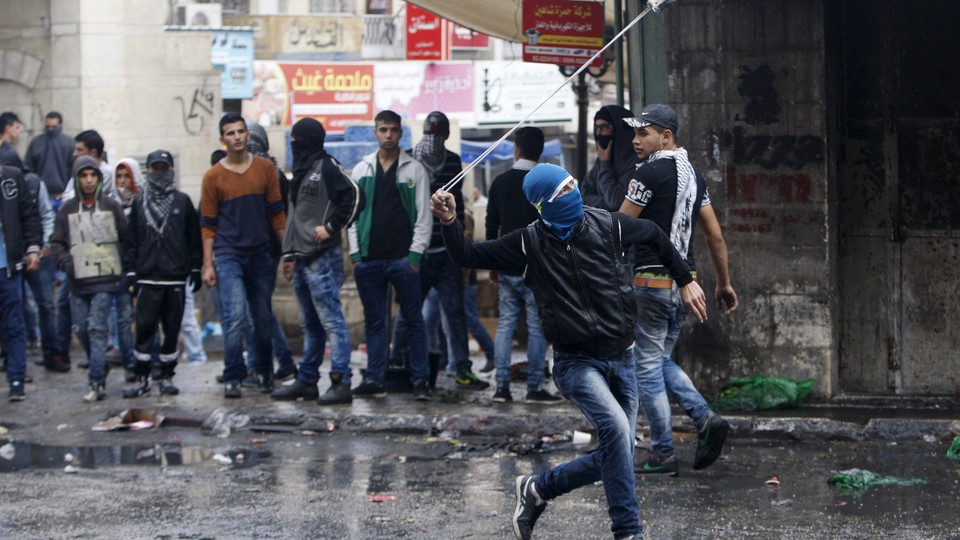 For more than a year, there's been sustained debate about whether the ongoing tensions and fits of violence in Israel, the West Bank, and in particular, Jerusalem, would fully culminate in a third Palestinian uprising.
In recent months, amid failed peace talks, continued fallout from the latest war in Gaza, politically motivated riots and car attacks, deadly rock-throwing and deadly responses to rock-throwing, stabbings, fatal  arson and shootings, clashes at holy sites, the expansion of settlements and price-tag attacks, the rhetorical canceling of both previous peace deals, and the future peace process, the answer seems to increasingly be this: A Third Intifada is here and it doesn't resemble the previous two.
On Wednesday, just days after the 15th anniversary of the Second Intifada, the implicit seemed to become explicit. Across Israel, the West Bank, and in particular, Jerusalem, violence swelled with riots, car attacks, stone-throwing, stabbings, and arrests. "A Wave of Terror" is how The Jerusalem Post characterized the day's violence on its live-blog.
Owing to the violence, Israeli Prime Minister Benjamin Netanyahu canceled a trip to Germany where he was set to celebrate 50 years of Israeli-German relations. "We are still in the midst of a wave of terror," Netanyahu said on Wednesday. "We have known worse times than this and we will also overcome this wave of terrorism with determination, responsibility, and unity."
Meanwhile, Palestinian Authority President Mahmoud Abbas sought to distance himself from the violence. "I support a popular, nonviolent struggle and oppose all violence and use of weapons. I've made clear a number of times that I don't want to return to the cycle of violence," Abbas told Haaretz.
At many turns over the past year, both men have continued to accuse the other of incitement to violence, including during competing United Nations addresses last week. One upshot of the fraying relationship between the two sides is diminished cooperation between Israeli and Palestinian security forces, which has been a keystone of limiting violence throughout the years.
Although PA sources denied it, last night Israeli and PA security officials met, trying to calm down the situation

— avi issacharoff (@issacharoff) October 7, 2015
The character of the recent violence has also changed from previous years, which has made it more difficult to contain. The rise of more "lone wolf attacks," be it by settler youth in the West Bank or more pedestrian Palestinian attacks that come without coordination from terrorist groups, have given some sense of spontaneity to the violence. As a result, the tensions have remained at a low simmer, never fully escalating and never fully receding.
That may have changed with Wednesday's riots and surge in violence. No matter what, it's bad news for everyone.