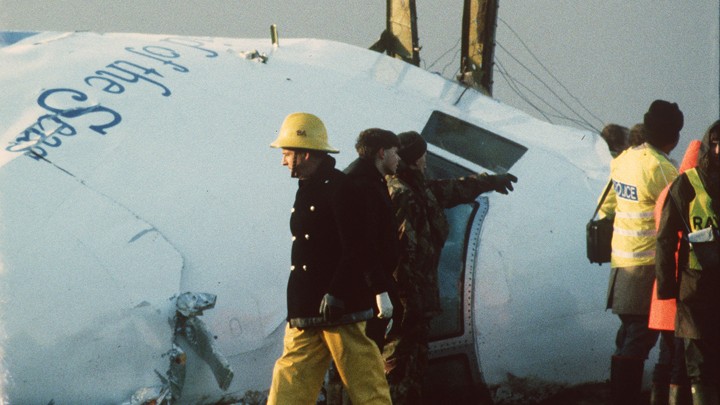 Nearly three decades after the disaster, there is a new wrinkle in the case of the Lockerbie bombing. On Thursday, a spokesperson for a top Scottish prosecutor announced that it would seek to join American investigators in interviewing two new suspects.
"[T]here is a proper basis in law in Scotland and the United States to entitle Scottish and U.S. investigators to treat two Libyans as suspects in the continuing investigation into the bombing of flight Pan Am 103 over Lockerbie," the statement read.
The infamous 1988 attack killed all 259 passengers aboard Pan Am Flight 103, many of whom were American, as well as 11 people on the ground in Scotland.
The bombing remains largely unsolved; Abdel Basset Ali al-Megrahi, once a Libyan intelligence officer, was the only person convicted of the crime. (al-Magrahi didn't stand trial until 2001 and was eventually released  in 2009, a few years before he died of prostate cancer.)
According to a U.S. official, the two suspects are thought to be Abu Agila Mas'ud, a Libyan bombmaker, and Abdullah al-Senussi, who served as an intelligence chief under deposed Libyan dictator Moammar Gaddafi.
As The New York Times notes, the bombing was largely thought to be a retributive act ordered by the Libyan government:
Two years before the attack, in April 1986, President Ronald Reagan ordered airstrikes against the Libyan cities of Tripoli and Benghazi in retaliation for the bombing of a West Berlin nightclub club frequented by American armed service members.
The new development follows the airing of a three-part PBS Frontline investigative series on the bombing by Ken Dornstein, whose brother David was killed on the plane. The program also noted that Mas'ud, one of the new suspects, is currently in jail in Libya.
We want to hear what you think about this article. Submit a letter to the editor or write to letters@theatlantic.com.