'We Are Muslims Like All Libyans'
A conversation with Libya's unrecognized government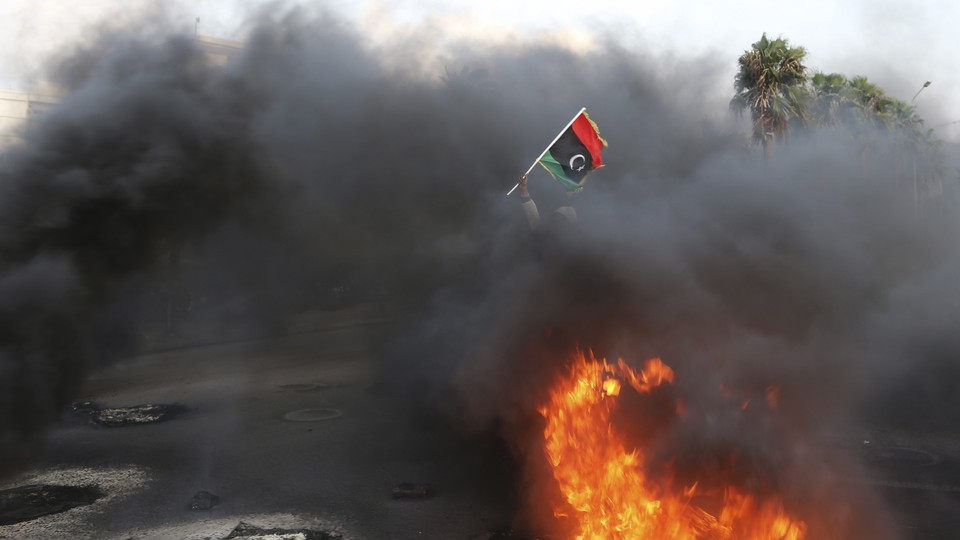 Four years ago next week, Libyan strongman Muammar al-Qaddafi was killed amid an armed uprising, backed by a NATO air campaign, against his 42-year rule. At the time, his death seemed like an opening for the kind of democratic transition demanded by Arab Spring protesters. Today, Qaddafi's demise has given way to chaos, civil war, and the slow-motion implosion of the Libyan state. Recently, in New York, I met representatives from one fragment of that state, who told me how they planned to make the country whole again.
Nowadays in Libya, disparate militias are regularly battling each other, buffeted by two competing governments. One is the General National Congress (GNC), a group of disbanded lawmakers whose military arm, Libya Dawn, seized the capital of Tripoli last year. The GNC is not recognized internationally and has reportedly forged alliances with various Islamist militias and groups, including Ansar al-Sharia, which the United States considers a terrorist organization and has accused of being involved in the deadly 2012 attack on the U.S. consulate in Benghazi.
The other is the internationally recognized House of Representatives (HoR), which governs from the eastern city of Tobruk. The HoR is also allied with militias as well as Khalifa Hifter, a military general and onetime Qaddafi ally who some suggest has designs on becoming the next strongman to rule Libya.
Earlier this month, representatives of the two Libyan governments were supposed to finally sign a UN-brokered peace deal in New York—and work to end a war that has killed thousands, cost the country tens of billions of dollars in lost oil revenue, accelerated the migrant crisis in Europe, and allowed ISIS to take root in the country.
But the parties ultimately walked out on the talks before a ceasefire could be reached. Hours later, in a surreal turn, I was contacted by representatives of the unrecognized government of Libya for a meeting before they left town.
The next morning, my cab pulled up at the appointed meeting place: the Midtown Hilton just off Yitzhak Rabin Way. I joined six GNC lawmakers and handlers in the hotel's closed dining room, where we discussed Libya's civil war while the anodyne pop hits of Hozier and James Morrison sounded from the ceiling above us.
I was particularly interested in meeting Abdulrahman Suwehli, who was only able to be in New York because Russia and China had vetoed a proposal by the United States, France, Spain, and Great Britain to seize his assets and ban his travel back in June. Last year, he was shot by armed rioters who stormed the Libyan Parliament in Tripoli.
Suwehli, a GNC member and a (currently boycotting) member of the HoR, ended up doing most of the talking. He sought to portray the GNC as the best hope for a democratic Libya, give or take some Christians.
"We are Muslims like all Libyans, but we are not extreme," he said. "We are democratic. We want to build a new democratic Libya, but we don't [want] the old [Qaddafi] regime to return under any banner, which they have been trying [to do] for the last two years of this crisis."
When I asked him about the GNC's affiliations with Islamist militias, he responded: "These people are the people who fought in [the Libyan uprising of] 2011 and sacrificed their lives and their limbs to get rid of Qaddafi. At that time, nobody described them as extremist or Islamist. They are the same people who are underground at the moment fighting for the revolution."
But what about the GNC's ties with the al-Qaeda-linked Ansar al-Sharia? Iwad Abdulsask, the head of the GNC delegation, claimed that the GNC is actually fighting against extremists and particularly ISIS, even if "the international media and the West is not as clear on that."
A key part of the GNC's platform is to bar anyone affiliated with the Qaddafi regime from power. When I mentioned that this policy sounded a lot like de-Baathification, the U.S.-led process that kept former members of Saddam Hussein's ruling party out of power in Iraq, and turned out to be a disaster because it fueled a Sunni insurgency in the country, Abdulsask defended the approach.
"We don't throw them into jail, we did not detain them, we did not harshly treat them," he said. (Amnesty International reported earlier this year that
Libya's "justice system remained paralyzed by violence and lawlessness" and that the Ministry of Justice in Tripoli "exercised only nominal control over many detention facilities holding perceived Mu'ammar al-Gaddafi loyalists," adding that "[a]s of March, only 10 percent of the 6,200 detainees held in prisons under the Ministry of Justice had been tried, while hundreds continued to be held without charge or trial in poor conditions." The internationally recognized government in Tobruk
has been accused
of similar human-rights abuses involving detainees.)
Qaddafi loyalists "ruled for 42 years in a dictatorial regime,"
Abdulsask said
. "They never believed in democracy or exchange of power." Study the American and French revolutions, he added, and "you'll find that the old regime will be put aside so that there's a new beginning for others." The GNC wants the same for Libya, he argued.
And yet, the chances for a fresh start in Libya appear to be growing more remote by the day. On Tuesday, both governments voiced their objections to the particulars of a new United Nations plan that would install a unity government in the country. It might have been the first thing they agreed on.