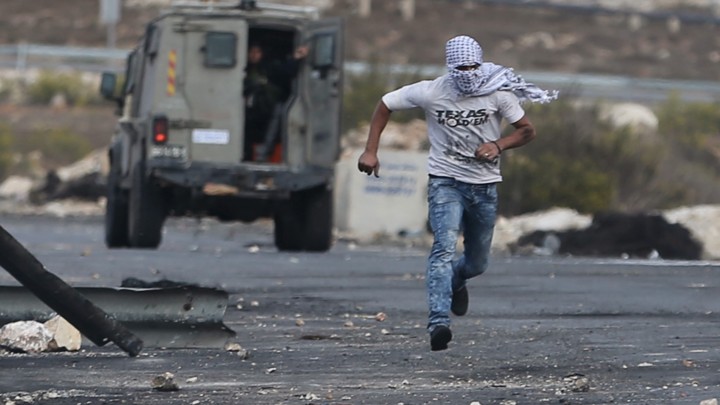 Updated on October 18, 2015, at 4:02 p.m. ET
Jerusalem, Israel, and the Palestinian territories continued to roil over the weekend as riots, stabbings, and a shooting attack added to the growing death toll in the recent spike in violence.
On Saturday, according to the Israeli military, four Palestinians were killed and another was injured while carrying out knife attacks against Israeli civilians and police in Israel and the West Bank.
"At least 34 Palestinians have been killed by Israeli fire since September, including 17 alleged attackers," The Wall Street Journal reported. "The others died in clashes with Israeli troops in the West Bank and the Gaza Strip."
On Sunday, an armed Palestinian man attacked a bus station in the city of Beersheva in southern Israel.* One person was killed and eight others were injured in the attack. According to Israeli authorities, at least four of the people injured in the attack were police officers. Hamas, the Gaza-based terror organization, praised the attack on Sunday evening.
As my colleague Jeffrey Goldberg noted on Friday, the recent violence has been spurred in part by rumors that Israel is seeking to take over the Temple Mount, Judaism's holiest site and home to the al-Aqsa Mosque, Islam's third-holiest site.
Israel vociferously maintains its fealty to the status quo, whereby Jews can visit the Temple Mount, but not pray there. In recent months, however, a small number of religious Jews and right-wing Israeli politicians have made visits to the site and prayed there in defiance of the arrangement. Earlier this month, as the violence grew, Israeli Prime Minister Benjamin Netanyahu banned all Israeli ministers and members of Israel's parliament from the compound.
Others yet point to Israel's policies and the expansion of settlements in the West Bank as reasons for the violence. Still, there are fears that a political conflict is transitioning into a religious one. On Friday night, Palestinian rioters in the West Bank city of Nablus set fire to Joseph's Tomb, a site holy to Jews. On Sunday, the Israeli Defense Forces had to evacuate 30 Jewish worshippers who appeared to pray at the site without a permit and were confronted by Palestinians.
International leaders including Pope Francis have urged the two sides to make gestures toward peace. On Sunday, U.S. Secretary of State John Kerry confirmed that he would be meeting separately with Netanyahu and Palestinian Authority President Mahmoud Abbas later this week in an effort to quell the tensions.
---
* This post has been updated to reflect new reports that the attack on the Beersheva bus station was carried out by one man, not two. An Israeli police commander says forces mistakenly shot and wounded another man whom they thought was a second attacker, but who turned out to be a foreign national.
We want to hear what you think about this article. Submit a letter to the editor or write to letters@theatlantic.com.
Adam Chandler
is a former staff writer at
The Atlantic
. He is the author of
Drive-Thru Dreams: A Journey Through the Heart of America's Fast-Food Kingdom
.