Jason Rezaian's Ordeal
A look into the theories behind The Washington Post reporter's trial and guilty verdict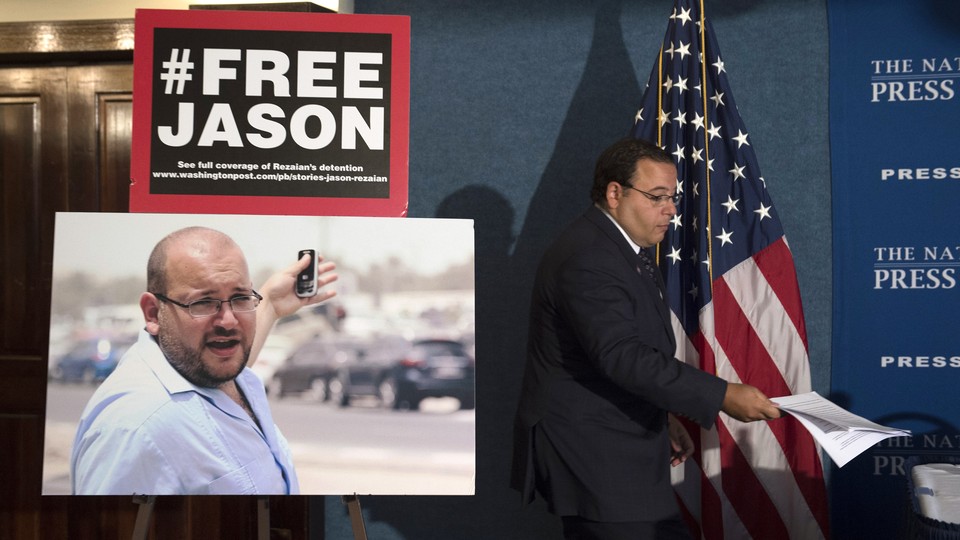 From the get-go, it seemed apparent Iran's imprisonment of Washington Post reporter Jason Rezaian on espionage charges wasn't about an actual crime.
For well over a year, the dual Iranian-American citizen has been held for vaguely defined crimes in one of Iran's most infamous prisons. He was only allowed to meet with his attorney once before he was tried in a closed-door trial. If you need a refresher on Rezaian's treatment, here is The Washington Post's editorial board in July:
Though Iranian law limits such treatment to 20 consecutive days, Mr. Rezaian was held in solitary for 90 days or more. Also illegal was the failure to bring formal charges against Mr. Rezaian for more than five months and the severe restriction of his legal representation. Iranian law says no person may be detained for more than a year, unless charged with murder; yet Mr. Rezaian remains imprisoned.
On Sunday evening, two months after the final hearing, the Iranian judiciary confirmed that Rezaian had been found guilty. Details about sentencing and the evidence against him remain scant, though as my colleague Krishnadev Calamur noted in August, Rezaian could face a 20-year prison sentence.
Earlier, some hopes were pinned to the idea that Rezaian might have represented a bartering chip for Iran as it worked to hash out a nuclear deal with the United States and five other world powers. The deal went ahead and so did Rezaian's imprisonment leaving one lingering question: If Rezaian's ordeal was all for show, what is Iran or its judiciary seeking in delivering a guilty verdict now?
Noting Iranian President Hassan Rouhani's comments during an interview with 60 Minutes last month, Thomas Erdbrink at The New York Times, offers the theory that Iran is seeking a prisoner exchange with the United States.
"I don't particularly like the word exchange, but from a humanitarian perspective, if we can take a step, we must do it," Rouhani replied about a possible prisoner swap, adding, "The American side must take its own steps."
Yet, over at The Wall Street Journal, Haleh Esfandiari sees Rezaian's conviction as a notice of warning from Iran's hardliners to Iranian President Hassan Rouhani:
By finding Mr. Rezaian guilty, Iran's security agencies and judiciary are effectively warning Mr. Rouhani. They know that this conviction will strengthen those in the U.S., including members of Congress, who are skeptical of President Barack Obama's outreach to Iran; and they will continue to try to obstruct Mr. Rouhani's outreach to Washington. The conviction is a way of saying that they are not subject to Mr. Rouhani's control.
Whatever the real reason, the ordeal is far from over.