A Diplomatic Entry for Iran in the Syrian Conflict
Iran's foreign minister will join his counterparts from the U.S., Russia, Saudi Arabia, and other nations for talks on Syria's political future.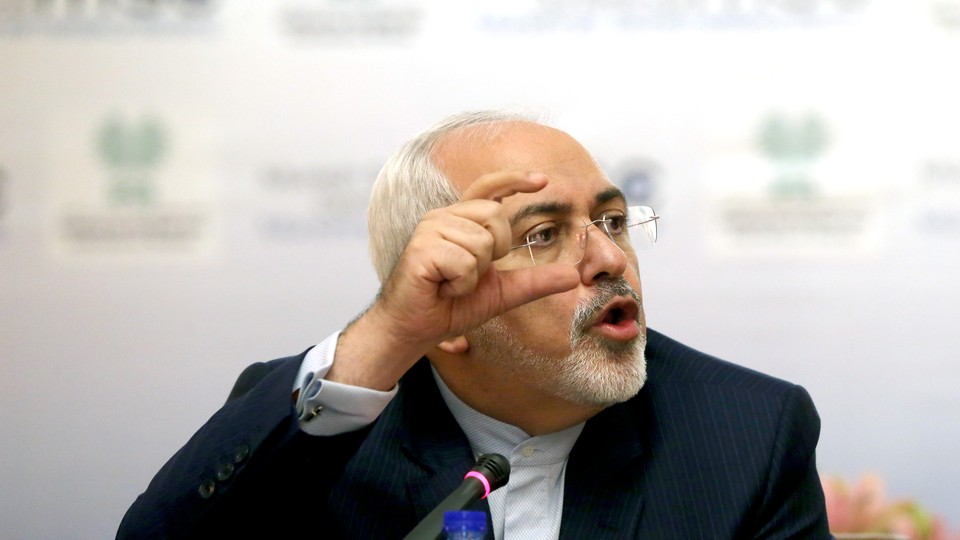 Iran's foreign minister will join counterparts from the U.S., Russia, Saudi Arabia, Turkey, and other nations in Vienna this weekend for talks on Syria's political future, an Iranian foreign-ministry spokeswoman said.
Marziyeh Afkham, the spokeswoman, said Mohammad Javad-Zarif, the foreign minister, discussed the meeting with Sergei Lavrov, his Russian counterpart. Her comments were reported by the semi-official
Islamic Students' News Agency
. Zarif's presence in Vienna will mark the first time Iran, Syria's closest ally, will take part in the talks—a sign of a shift in the U.S. diplomatic efforts to resolve the conflict in Syria.
As we reported on Tuesday
, John Kirby, the State Department spokesman, said Iran had been invited to international talks over Syria's future.
"The ultimate goal that everyone wants to get to … is to come up with a framework for a successful political transition in Syria which leads to a government not led by Bashar al-Assad and that is representative of and responsive to the Syrian people," Kirby said.
The nearly five-year-long Syrian civil war pits President Bashar Assad against several rebel groups, ranging from Western-backed to moderate Islamists to the Islamic State. Russia entered the conflict last month at Assad's behest, carrying out airstrikes ostensibly against the Islamic State, but also targeting other groups. The U.S. and its allies are carrying out their own campaign against the Islamic State, but they say Assad must step down as a precondition to any resolution of the Syrian conflict, which has killed tens of thousands of civilians and created more than 4 million refugees.
On Tuesday, Ash Carter, the U.S. defense secretary, told the Senate Armed Services Committee that the U.S. will step up its operations against the Islamic State in Iraq and Syria, including through "direct action on the ground." But S
enator Lindsey Graham of South Carolina criticized the U.S. strategy, pointing out that it appeared to be focused solely on the Islamic State and not Assad.
"If I'm Assad this is a good day for me because the American government has just said, without saying it, that they are not going to fight to replace me," Graham said.