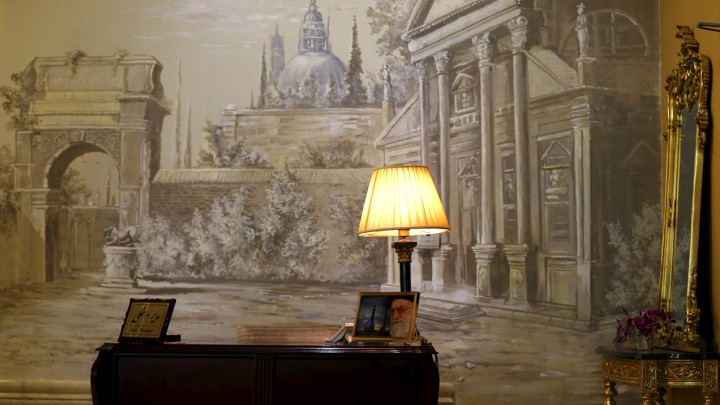 Supreme Leader Ayatollah Ali Khamenei, Iran's highest authority, has approved the nuclear deal brokered with six world powers this summer—with certain conditions.
Khamenei made the order in a letter to President Hassan Rouhani, Iranian media reported Wednesday. Iran's parliament passed a bill supporting the deal last week. Iran and the negotiating nations—the United States, Britain, Germany, France, Russia, and China—were required to start taking steps to comply with the accord October 18, the day the agreement was formally adopted, 90 days after it was approved by the UN Security Council.
Under the agreement, the signatories to the deal—which would block Iran's ability to develop nuclear weapons for at least 15 years—will now begin making the necessary arrangements and preparations to implement their commitments under the pact. The New York Times explains American experts predict Iran could take six to nine months to do that, but the country's officials say it will happen sooner. When that day comes, the U.S. and the European Union will waive many of their nuclear-related sanctions against Iran.
But Khamenei's caveats could further complicate a process already expected to be arduous. In his approval, he said Iran should hold off complying with two significant requirements: transporting its stockpile of low-enriched uranium out of the country, and disabling the core of its plutonium heavy-water reactor at Arak.
Khamanei wants the International Atomic Energy Agency, the UN nuclear watchdog that will inspect Iranian military sites, to first determine whether Tehran has sought to develop nuclear weapons for military purposes, a claim that for years other nations have made and Iran has denied. The nuclear agency finished collecting samples from those sites this month, and is expected to announce its findings on the matter by mid-December.
There are already some bumps in the long road to compliance. Last week, the U.S. said Iran had tested a medium-range missile that American officials say is capable of delivering a nuclear weapon, which is a violation of UN law. The U.S. plans to bring this up during a Security Council session on Wednesday.
We want to hear what you think about this article. Submit a letter to the editor or write to letters@theatlantic.com.