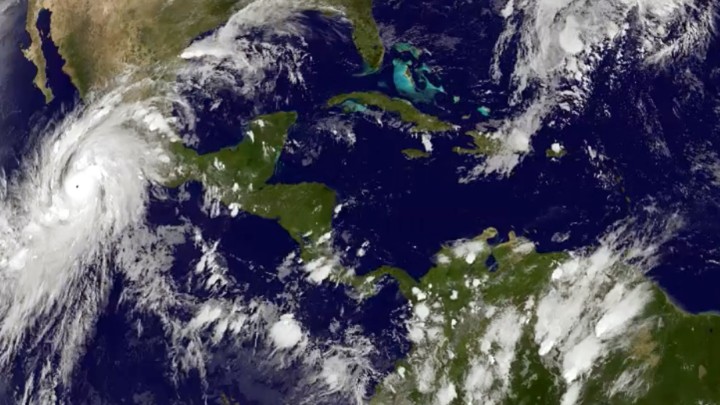 On Friday, Mexico braced for Hurricane Patricia, a massive Category-5 storm, which is expected to make landfall in the coming hours.
According to the National Hurricane Center, Patricia is already said to be the strongest-ever storm on record in the Western hemisphere.
For posterity-- 200 mph for a #hurricane- never seen that in modern satellite era! #Patricia #climate #ElNino pic.twitter.com/o25GoIiAuF

— Eric Blake (@EricBlake12) October 23, 2015
The projections are grim. The NHC predicts that while the storm's strength could fluctuate, "Patricia is expected to remain an extremely dangerous Category 5 hurricane through landfall."
As other experts are warning of the possibility the storm might produce 40-foot waves of water along Mexico's western coast, NASA points out that the storm has already broken two storm-related records.
In addition to being "the strongest hurricane on record in the National Hurricane Center's area of responsibility (AOR) which includes the Atlantic and the eastern North Pacific basins," Patricia has also logged the lowest-ever "minimum central pressure," which helps gauge a storm's current strength and predict its strength in the near future.
Low central pressure is a bad sign. "Wind is a result of forces attempting to balance," Steve LaNore explained in 2010. "As the pressure lowers in the center, the air spiraling around the eye must spin faster to offset the greater 'slope' (gradient) of the pressure surface."
Patricia's minimum central pressure has been marked at 880 millibars. For perspective, Hurricane Katrina, which was the third-most powerful hurricane to reach the United States, was logged at 920 millibars when it made its second landfall. (Katrina's top wind speed was also 125 miles-per-hour.)
Ahead of the storm, dozens of Mexican municipalities have declared states of emergencies while others have been put on high alert. Measures such as closing schools and canceling flights have been taken in three Mexican states in particular—Jalisco, Colima, and Manzanillo, near where the storm is projected to hit. As the Los Angeles Times notes, more than 8 million people live in those three states.
We want to hear what you think about this article. Submit a letter to the editor or write to letters@theatlantic.com.