The Wrath of Hurricane Joaquin
The storm is expected to pass by Bermuda Sunday night.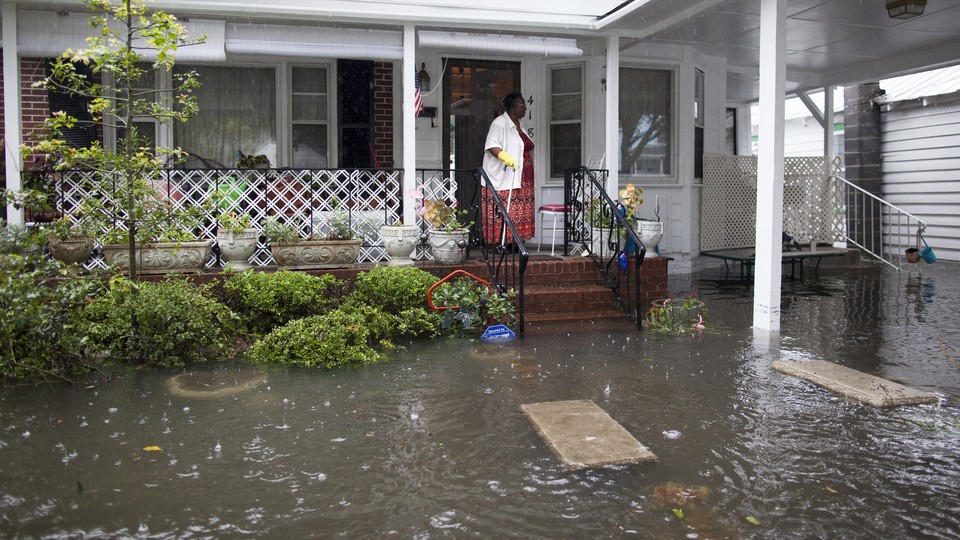 After dumping heavy rain on the East Coast all weekend, Hurricane Joaquin is heading farther northeast, toward Bermuda.
Joaquin, the third hurricane of this year's Atlantic season, has weakened from a Category 4 hurricane to a Category 2. Its maximum wind speeds have decreased from 130 miles per hour to 100 miles per hour.
Bermuda is already experiencing hurricane conditions, and the eye of the storm is expected to whirl past the British island territory late Sunday night. The U.S. National Hurricane Center predicts three to five inches of rain there, and says isolated tornadoes are possible.
In the United States, Joaquin appears to have done its worst in South Carolina this weekend. More than 18 inches of rain in roughly 24 hours fell in the state, leading to severe flooding. Charleston got nearly one foot of rain on Saturday, breaking the city's record for that day that was set in 1998. Three people have died as a result of the hurricane, and hundreds of of homes and businesses have flooded.
The state has closed interstate highways in and around the capital city of Columbia, and 600 members of the National Guard have been dispatched for rescues and evacuations, said South Carolina Governor Nikki Haley on Sunday.
"This is an incident we've never dealt with before," Haley said.
President Obama signed an emergency declaration for South Carolina on Saturday, directing the Federal Emergency Management Agency to coordinate all disaster relief efforts in the state.
The Associated Press interviewed several South Carolina residents who are struggling to decide whether to weather the floods or leave their homes. Here's one:
From her window, Peggy Capps could see the water from Black Creek pooling in her backyard. … "Everyone has been told they should leave, but I haven't made up my mind," she said.

The 79-year-old Capps lives with her son in a neighborhood that runs along Black Creek. She said they could go into town and stay with a relative. But Capps doesn't want to leave behind her 7-year-old cat, Tiger.

"I'm not sure I would be able to take him and I don't want to leave him here. I don't know how long I would be gone," she said.
Before Joaquin reached South Carolina, it spent 36 hours swirling past the Bahamas, dumping up to 18 inches of rain on the island chain. The hurricane destroyed homes and buildings, uprooted trees, and caused widespread power outages. A cargo ship carrying 33 people went missing off the coast of the Bahamas on Friday. On Sunday, rescue teams found debris that appeared to belong to the ship. On board were 28 U.S. citizens and five Polish nationals.