Godwin's Law Comes to the Refugee Crisis
Editor's Note:
This article previously appeared in a different format as part of The Atlantic's Notes section, retired in 2021.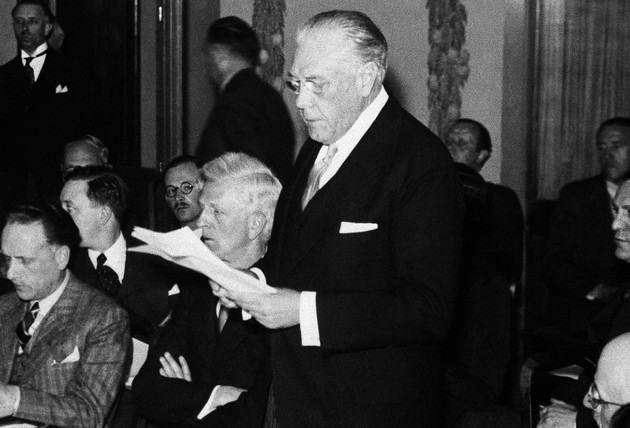 David noted yesterday the tendency of presidential candidates to make Holocaust analogies, but Godwin's Law isn't an American monopoly, and in some cases the comparison may be historically apt.
Case in point: the United Nations's high commissioner for human rights, Zeid Ra'ad Al Hussein, told The Guardian that the rhetoric being used in Europe to describe the refugee crisis was comparable to the language used at the 1938 Evian Conference, where countries, including the U.S., refused to take in Jews fleeing Hitler's Germany. Here's Hussein in his own words:
It's just a political issue that is being ramped up by those who can use the excuse of even the smallest community as a threat to the sort of national purity of the state. If you just look back to the Evian conference and read through the intergovernmental discussion, you will see that there were things that were said that were very similar.

Indeed, at the time, the Australian delegate said that if Australia accepted large numbers of European Jews they'd be importing Europe's racial problem into Australia. I'm sure that in later years, he regretted that he ever said this – knowing what happened subsequently – but this is precisely the point. If we cannot forecast the future, at least we have the past as a guide that should wisen us, alert us to the dangers of using that rhetoric.
The Evian Conference was held in France in 1938 after the German annexation of Austria to discuss ways to deal with the crisis caused by the flow of Jewish refugees fleeing the Nazis. Delegates from 32 countries, including the U.S., Britain, France, Canada, Latin America, and Australia attended.
Yad Vashem, Israel's official Holocaust memorial, describes what happened next:
During the conference, it became painfully obvious that no country was willing to volunteer anything. The British delegate claimed that Britain was already fully populated and suffering from unemployment, so it could take in no refugees. His only offer consisted of British territories in East Africa, which could take in small numbers of refugees. The French delegate declared that France had reached "the extreme point of saturation as regards admission of refugees." Myron C. Taylor, the American delegate, allowed that the United States would make the previously unfilled quota for Germans and Austrians available to these new refugees. Other countries claimed the Depression as their excuse for not accepting refugees. Only the Dominican Republic, a tiny country in the West Indies, volunteered to take in refugees—in exchange for huge amounts of money.
As we know, six million Jews were killed in the Holocaust.
Hussein also told The Guardian: "One wonders what has happened to Europe. Why is there so much amnesia? Why don't they properly distill from their experience that they've been down this road before and it's a very unhappy road if you continue to follow it."