Germany's Refugee Crisis Is Getting Worse
The country's recent policy shifts on European migrants have led to a logistical disaster.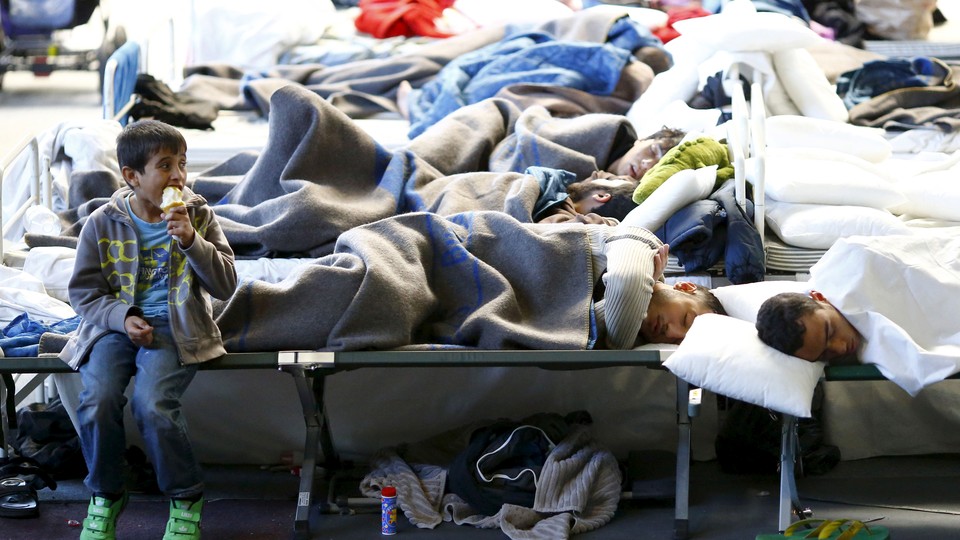 When Germany announced in August that it would waive United Nations rules and allow Syrian migrants to apply for asylum regardless of how they got there, officials knew to expect a flood of people. Hopeful families were already surging into the country from all over the Middle East, an area crippled by social strife and political chaos. Authorities predicted the arrival of more than 800,000 refugees to the country by the end of 2015, and they tried to prepare accordingly.
But Germany is now sagging under the weight. Its cities and towns cannot easily accommodate all the refugees. An official from the Berlin Refugee Council called the issue an "organizational problem" rather than a financial one: Authorities don't have the resources—or the time—to quickly provide registration, funds, secure accommodation, health services, and identification to all the refugees, 200,000 of whom arrived in September alone.
German police and politicians are frustrated. Exhausted migrants who traveled hundreds of miles to escape civil war only to be held in weeks-long waiting lines are even more so. And adding to Germany's existing logistical problems now is another: The impending arrival of a freezing, harsh winter.
"I wish I'd stayed in Syria and not come here," a 26-year-old Syrian migrant told Reuters through an interpreter. "I dreamed Germany would be better, but it's so bad. We've been sleeping in the cold. Now my baby is sick."
Thousands of other migrants are facing similar problems. Registration offices are slow to identify and register migrants, especially those without documents—and they're also approaching the process with heightened suspicion, since plenty of false claims have cropped up since the country opened its doors to Syrian refugees. In Berlin, some people have been sleeping outside for nearly a month, waiting to register. Others have given up trying to apply and taken up shelter on their own, creating yet another headache for German authorities.
The process of registration—which involves taking migrants' photos and fingerprints, providing them with temporary documentation, and distributing them evenly across the country—used to take a few hours per person, but now takes two days or more, according to Berlin's health and social affairs office.
Germany's new refugee policies, announced in August, initially received widespread approval, with two-thirds of the country agreeing with the decision to give refuge to stranded asylum-seekers. Though UN regulations say refugees must apply for asylum in the first European Union country they enter, Germany is processing applications from Syrians even if they traveled through another EU country.
German Chancellor Angela Merkel has since seen a steep decline in her popularity ratings. Still, Merkel stands by her decision to allow Syrian migrants to flee from civil war, insisting that she would make the same decision again today.