Violence and Xenophobia on the German Campaign Trail
Henriette Reker, one of Cologne's leading mayoral candidates, was seriously wounded by an anti-refugee attacker.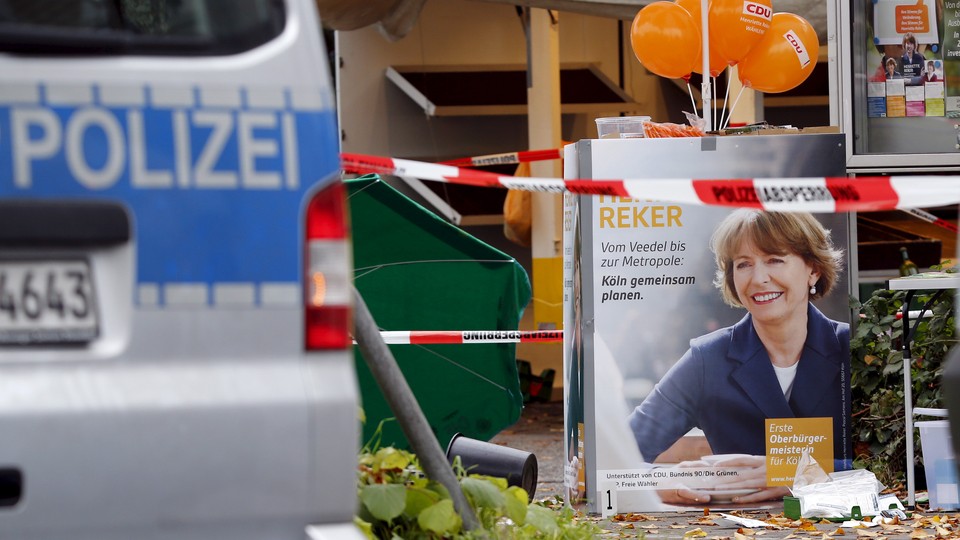 On Saturday, Henriette Reker, a leading mayoral candidate in Cologne, Germany, was stabbed in the neck while campaigning at a market ahead of the city's elections on Sunday. She was seriously wounded and is currently in stable condition.
According to reports, her attacker was a 44-year-old Cologne man, who had been unemployed for several years. The assailant told police that "he wanted to and did commit this act because of anti-foreigner motives." Another woman, an aide to Reker, was also seriously wounded and three others were lightly injured as they sought to help fend off the attacker.
Police have declined to rule out mental illness as at least a partial motive in the case. Nevertheless, in addition to the attacker's statements, circumstances suggest a political motive. Reker, an independent, is backed by German Chancellor Angela Merkel, widely seen as Europe's leading champion for the settlement of refugees. "The 58-year-old [Reker] currently heads Cologne's social affairs and integration department, and is responsible for refugee housing," the AP added.
Reker's attack accompanies a context that transcends borders as Europe continues to grapple with how (or if) to accommodate hundreds of thousands of refugees. At midnight on Saturday, after erecting a 220-mile razor-wire barrier, Hungary closed its borders with Croatia to stem the flow of people through the country.
While Hungary and other Eastern European countries such as Poland or Romania garner attention and criticism for anti-refugee sentiment and xenophobia, Saturday's attack comes at a time when Germany is also dealing with anti-immigrant rallies and acts of violence against refugees, despite the country's leadership on the issue.
Writing in The Atlantic on Friday, Heather Horn confronts the stereotype that Eastern Europeans have less tolerance or more enmity toward foreigners than Western Europe. Using one admittedly limited metric, she notes that levels of tolerance "seem to be about the same in Poland, Ukraine, and the Czech Republic as in Italy or Finland."
Meanwhile, in Sweden, police are investigating a case of "aggravated arson" in which a former school that was meant to house 80 migrants was burned to the ground on Saturday.