What Was It Really Like to Escape East Germany?
Editor's Note:
This article previously appeared in a different format as part of The Atlantic's Notes section, retired in 2021.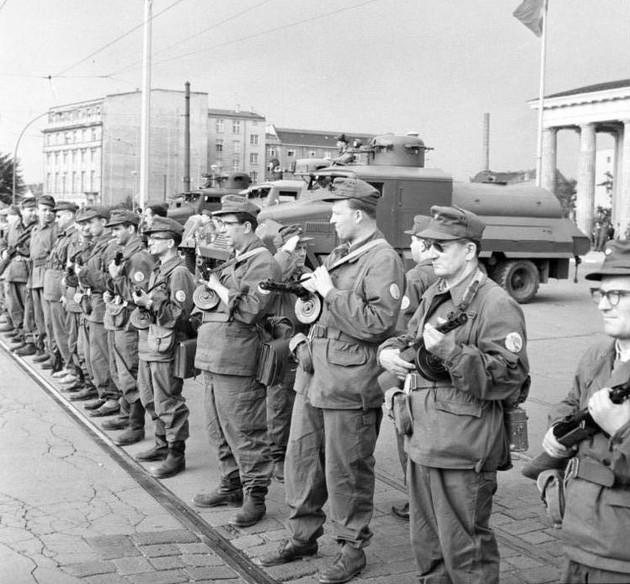 Back in 1961, when Germany was at its most fiercely divided, The Atlantic published a collection of interviews with East Germans called "Why We Crossed Over." "Dieter S.," a 21-year-old hospital orderly, explained how he found himself on the government blacklist:
[The police] said that they knew that I had been going frequently into West Berlin to see my aunt. They knew also that I had many friends in West Berlin and that I had been seen riding on a motor scooter with a decadent girl from West Berlin who had long hair, like Brigitte Bardot's. All of this was true enough ... That night I crossed the frontier into West Berlin and knocked on my aunt's door.
After decades of Cold War thrillers, a story like Dieter's sounds oddly low-key. But this was just before the completion of the Berlin Wall, and it was sometimes surprisingly easy for East Germans to get out of the country.
"Ursula F.," described as a pretty 25-year-old with auburn hair, got into trouble with the police after she refused to report on some journalist friends. The day before she was supposed to report for "political education," she writes, "I took a train to East Berlin, walked to the nearest border checkpoint, and said to the guard: 'I just want to buy a copy of the Frankfurter Allgemeine.' He smiled and let me through."
Another interviewee, a state-employed cabinetmaker identified as "Hans R.," had a more dramatic tale. He'd endangered his family by secretly doing work for private clients; after a co-worker filed an incriminating report about him, he came home one day to discover that his wife had been arrested. He decided to flee the country, leaving his son with a grandmother and his wife in prison. "It is not easy to do such a thing," he said. "I can only hope that the situation will not last forever."
It didn't. Today is the 25th anniversary of German reunification.