FIFA's Blatter Is Suspended
Also banned along with Sepp Blatter for 90 days are Michel Platini and Jérôme Valcke.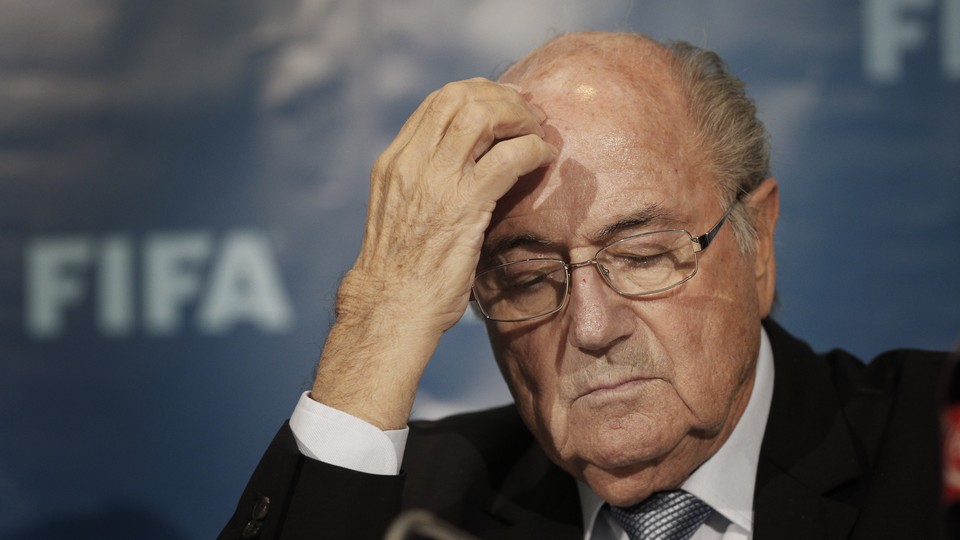 FIFA's ethics committee has banned Sepp Blatter, the president of soccer's governing body, for 90 days. Also banned along with Blatter for that period are Michel Platini, the UEFA president and FIFA vice president, and Jérôme Valcke, FIFA's secretary general.
In a statement, FIFA's ethics committee said the bans may be extended for an additional period not exceeding 45 days.
Additionally, Chung Mong-joon, the former FIFA vice president, was banned for six years and fined about $103,000.
"During this time, the above individuals are banned from all football activities on a national and international level," the statement said. "The bans come into force immediately."
The decision by the ethics panel, which is headed Hans Joachim Eckert, a German judge, comes a day after the committee recommended Blatter be suspended.
As we have previously reported, Swiss authorities are investigating Blatter on allegations of criminal mismanagement and misappropriation during his presidency of FIFA. The allegations center on an "unfavorable contract" Blatter signed with the Caribbean Football Union in 2005. He is also accused of making a "disloyal payment" to Platini, the former French soccer great who was hoping to succeed Blatter as FIFA's chief, for work performed between January 1999 and June 2002.
Blatter has denied the charges against him, and has resisted pressure to step down.
But Thursday's suspension arguably brings to an end Blatter's reign over FIFA. Both he and soccer's governing body have faced scrutiny for years—scrutiny that only increased after the 2018 and 2022 World Cups were awarded to Russia and Qatar, respectively. In May, a joint U.S.-Swiss operation resulted in the indictments and arrests of several FIFA executives in Zurich.
Blatter, who had just been re-elected to a fifth term as FIFA's president—a position he has held since 1998—resigned, but said he'd stay on in the job until February 2016.
Thursday's 90-day suspension would mean Blatter will be back at work January 6, 2016—just days before the election to select the person who will succeed him.
Of the others banned, Valcke, as we have previously reported, was "released from his duties" last month amid allegations he was part of a scheme to sell tickets for the World Cup above their face value.
Chung, the former FIFA vice president, was banned in connection with the investigation into the 2018 and 2022 World Cups. He too was hoping to succeed Blatter as FIFA's president.
Issa Hayatou, the head of the Confederation of African Football, will run FIFA until the Blatter's return. Hayatou himself has been accused of corruption by the BBC's Panorama program, as well as The Sunday Times. He has denied the allegations.