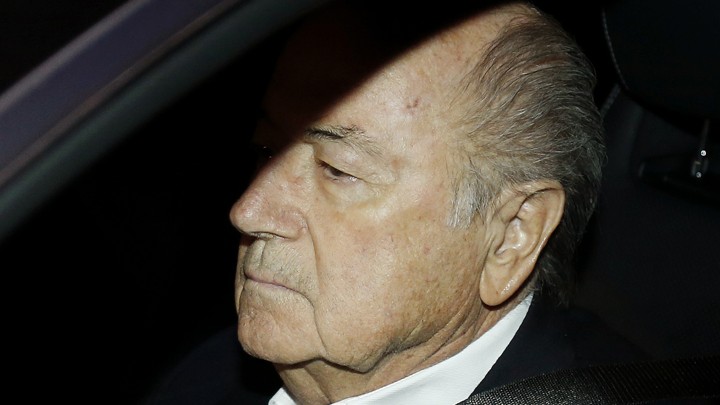 FIFA's ethics committee has recommended that Sepp Blatter be suspended amid a Swiss criminal investigation into the president of soccer's governing body, the BBC, Sky Sports, and others are reporting.
A decision on whether to act on the recommendation is likely to be made Thursday by Hans Joachim Eckert, FIFA's ethics judge. He was the author of a widely criticized report that cleared Qatar and Russia of corruption in their successful bids to host the World Cup.
Blatter, as we have previously reported, faces allegations of criminal mismanagement and misappropriation during his presidency. According to the Swiss attorney general's office, the allegations center on an "unfavorable contract" Blatter signed with the Caribbean Football Union in 2005. Blatter is also accused of making a "disloyal payment" to UEFA chief Michel Platini for work performed between January 1999 and June 2002.
Blatter, who denies all the charges against him, has refused to resign—even in the face of pressure from some of FIFA's biggest corporate sponsors.
Wednesday's suspension is the latest nail in Blatter's professional coffin. Both he and FIFA have faced scrutiny for years. Those drumbeats became louder after the 2018 and 2022 World Cups were awarded to Russia and Qatar, respectively. They were capped in May by a joint U.S.-Swiss operation that resulted in the indictments and arrests of several FIFA executives in Zurich.
Blatter, who had just been re-elected to a fifth term as FIFA's president—a position he has held since 1998—resigned, but said he'd stay on in the job until February 2016.
If a 90-day suspension takes effect Wednesday, it would mean Blatter will be back at work January 5, 2016—just days before the election to select the person who will succeed him.
We want to hear what you think about this article. Submit a letter to the editor or write to letters@theatlantic.com.