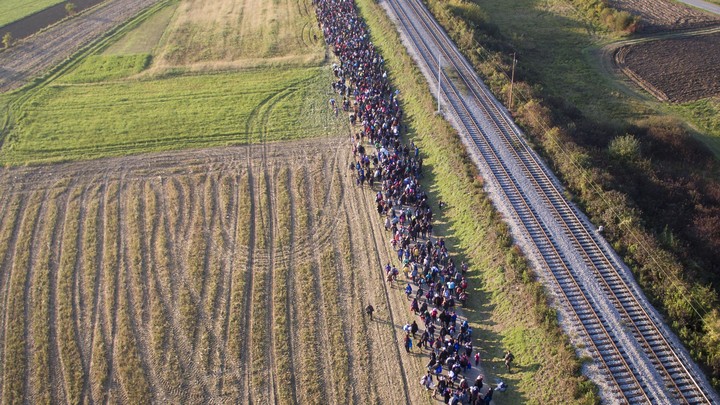 With the various numbers being thrown around about the Europe's refugee crisis—4 million, 800,000, 100,000—it's hard to visualize the many people who are crossing into Europe each day. But here's what a fraction of those numbers looks like, courtesy of Britain's Channel 4, which posted this video of migrants and refugees crossing into Slovenia from Croatia:
Over the past 10 days alone, about 76,000 people have entered Slovenia, which has a population of 2 million. Other Central European states have similar numbers: Macedonia, which like Slovenia is a former Yugoslav republic, saw 49,000 people enter last week alone; 300,000 people have entered the country of 2 million people since the start of the year, Mirjana Milenkovski of the UN High Commissioner for Human Rights, told Bloomberg.
Many of the migrants and refugees are fleeing the fighting in Syria, Afghanistan, Eritrea, and elsewhere. Their presence in Europe has become a political and humanitarian issue—especially with winter fast approaching. Most are making their way to points west and north, mostly Germany.
But the European Union's response to the most serious refugee crisis since World War II has been fragmented. Countries like Germany and Sweden have welcomed the newcomers; others like Hungary and the Czech Republic have not. Germany's calls for a more equitable sharing of the migrants is strongly opposed by many of the EU's newer members. As my colleague Marina Koren pointed out, Hungary has constructed razor-wire fences along its borders with Serbia and Croatia to prevent the entry of refugees and migrants.
European leaders have tried—with little luck—to forge a common response to the crisis, and that failure has prompted fears about the future of the bloc. Their efforts have mostly been piecemeal. On Monday, European leaders agreed to create another 100,000 spaces in refugee reception centers: 30,000 will be created in Greece, where many of the refugees and migrants first arrive—nearly 50,000 last week alone; UNHCR will create another 20,000; an additional 50,000 will be created along the western Balkan route that the refugees and migrants use.
You can follow some of our coverage of this story here.
We want to hear what you think about this article. Submit a letter to the editor or write to letters@theatlantic.com.