Airstrike Hits Hospital in Afghanistan
At least 19 people were killed in the accidental attack on Saturday.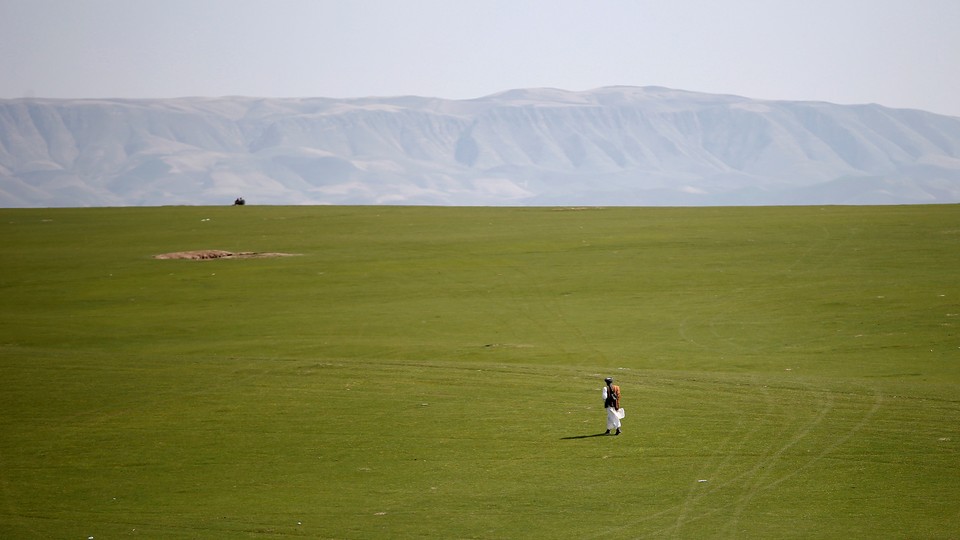 Updated October 3 at 12:15 p.m. ET
Early Saturday morning, a Doctors Without Borders trauma hospital in Kunduz, Afghanistan—the only functioning medical center in that part of the country—was unexpectedly hit by a U.S. airstrike. At least 12 staff members and seven patients were killed, and 37 people were injured.
A NATO coalition spokesman said the U.S.-led forces intended the strike as a response against a perceived Taliban threat nearby.
A spokeswoman for Doctors Without Borders said "all parties to the conflict, including in Kabul and Washington" had clearly been informed of the exact GPS coordinates of the international charity's trauma center. The charity, also known internationally as Médecins Sans Frontières, posted on its website that—since fighting in the area first broke out between the Taliban and the Afghan military on Monday—the hospital has treated 394 wounded. Over 80 medical staff members and 105 patients were on site when the strike rocked the building.
"MSF urgently seeks clarity on exactly what took place and how this terrible event could have happened," the spokeswoman said, adding that bombing continued for more than half an hour after military officials on both sides were contacted.
The organization is "deeply shocked by the attack, the killing of our staff and patients and the heavy toll it has inflicted in Kunduz," said operations director Bart Janssens in a statement. Outrage is also pouring in from the International Red Cross, whose Afghanistan operations director condemned the strike as an "appalling tragedy" that undermines "the capacity of humanitarian organizations to assist the Afghan people at a time when they most urgently need it."
The U.S. is investigating the strike. U.S. forces have been bombing the Taliban in the region in response to the group's capture of Kunduz earlier this week, its first takeover of a major Afghan city since 2001.
Saturday's damage also bears uncomfortable similarities to another event last year, when a United Nations shelter in Gaza was pelted by Israeli forces from the air, leaving 16 dead and hundreds injured.
Tweets from Doctors Without Borders show some of the damage: