Passing Blame for the Doctors Without Borders Airstrike
American officials say Afghan forces requested an airstrike that hit a Médecins Sans Frontières facility in Kunduz this weekend. Afghan representatives say the hospital was harboring Taliban fighters.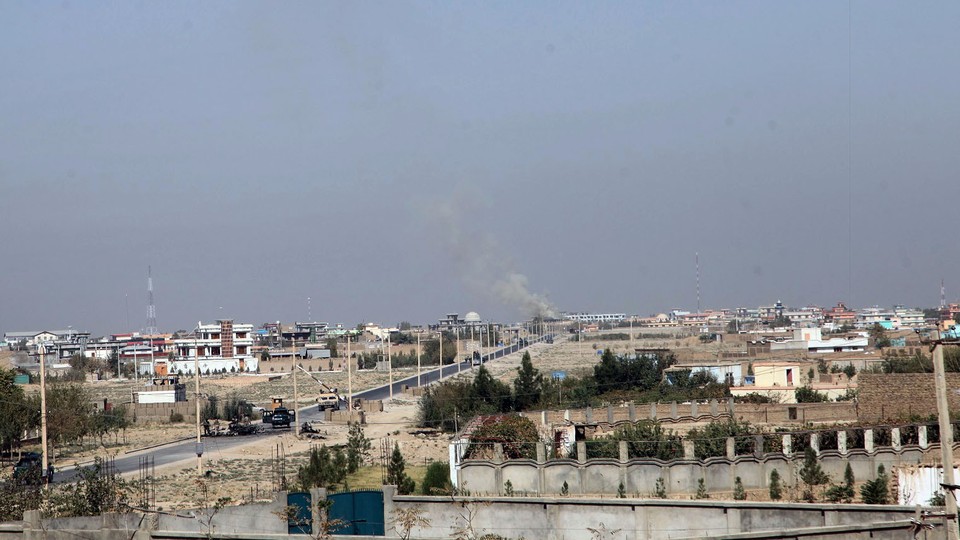 The fallout from the American airstrike that hit a Doctors Without Borders trauma hospital early Saturday in Kunduz, Afganistan, continues to get messier.
The incident, during which 12 staff members from the medical charity and 10 patients were killed, was initially described by an American spokesman as a byproduct of "collateral damage." An early version of the events asserted the hospital had been hit by airstrikes in response to a Taliban threat against American forces nearby. Afghan representatives also charged the hospital with harboring Taliban fighters, whom they say were firing from the facility.
Médecins Sans Frontières (MSF), the French name for the organization, strongly denies this charge and left the city Sunday. The United Nations and other groups have condemned the deadly episode, which MSF has characterized as "a war crime."
On Monday, General John Campbell, who is the top commander in Afghanistan, clarified the American position during a briefing at the Pentagon.
"We have now learned that on October 3rd, Afghan forces advised that they were taking fire from enemy positions and asked for air support from U.S. Forces," he told reporters.
Campbell added that this revision deviates from earlier reports suggesting "that U.S. forces were threatened and that the airstrike was called on their behalf." He added that a thorough investigation is ongoing.
The subtext, if you've missed it, is that the airstrike was a response to a plea by Afghan forces based on Afghan accounts of events on the ground. Following Allen's remarks, MSF released a statement late on Monday morning:
Today the US government has admitted that it was their airstrike that hit our hospital in Kunduz and killed 22 patients and MSF staff. Their description of the attack keeps changing—from collateral damage, to a tragic incident, to now attempting to pass responsibility to the Afghanistan government. The reality is the US dropped those bombs. The US hit a huge hospital full of wounded patients and MSF staff. The US military remains responsible for the targets it hits, even though it is part of a coalition. There can be no justification for this horrible attack. With such constant discrepancies in the US and Afghan accounts of what happened, the need for a full transparent independent investigation is ever more critical.