The Aftermath of the Airstrike on Doctors Without Borders
The medical charity has withdrawn from the Afghan city of Kunduz after a strike killed 22 at its hospital there.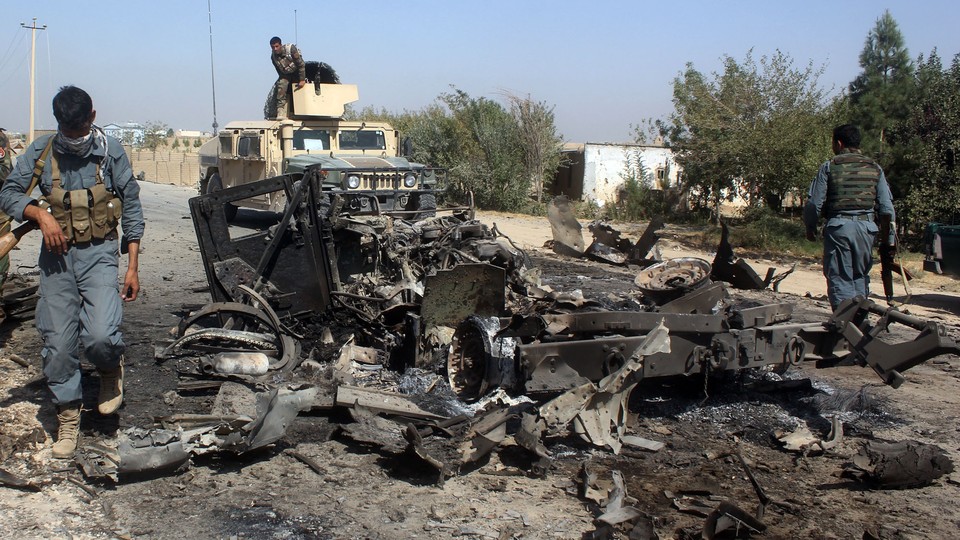 Doctors Without Borders, whose trauma hospital in Kunduz, Afghanistan, was bombed by an apparent U.S. airstrike early Saturday morning, announced Sunday that it has completely withdrawn from the northern Afghan city where its medical center now lies charred and inoperable.
A spokeswoman from the global medical charity —which is also known by its French name, Médecins Sans Frontières—told the AFP that "the MSF hospital is not functional anymore" after the attack and that "all critical patients have been referred to other health facilities and no MSF staff are working in our hospital." The facility's emergency rooms and intensive care unit were struck, according to accounts from multiple staff members.
Staff and patients have now been evacuated from Kunduz. After the bombing, 19 people, some of whom were children, were reported killed, and dozens injured. The death toll rose to 22 on Sunday, after three people died of their injuries. Twelve Doctors Without Borders staff members and 10 patients are among the dead.
The organization condemns the event as a "grave violation of international law" and is calling for answers from the U.S.-led NATO forces in Afghanistan that carried out the attack.
"We tried to take a look into one of the burning buildings. I cannot describe what was inside," one Doctors Without Borders nurse recounted. "There are no words for how terrible it was. In the intensive care unit six patients were burning in their beds."
Afghan forces had been fighting all week in the area with the Taliban, which recently overtook Kunduz in its first major capture since 2001. The U.S. military said that the airstrike targeted Taliban fighters who were directly firing on military personnel, and "may have resulted in collateral damage to a nearby medical facility." The Afghan Ministry of Defense said Taliban members were hiding in the hospital and were using it as a "human shield."
But Doctors Without Borders denies any Taliban fighters were on the hospital's grounds, which were closed during the night.
The organization's hospital in Kunduz was the only functioning medical center in the area. Since fighting between the Taliban and Afghan forces first broke out on Monday, the hospital treated 394 wounded, and it provided care to more than 22,000 patients in 2014.
Afghan and American forces are investigating the bombing, for which U.S. President Barack Obama expressed his "deepest condolences" in a White House statement. Doctors Without Borders has demanded an independent investigation. Its president, Meinie Nicolai, said, "We cannot accept that this horrific loss of life will simply be dismissed as 'collateral damage.'"