The Legacy of the Pinochet Trial
Hissène Habré and Chile's Augusto Pinochet have seemingly little in common—except a legal precedent.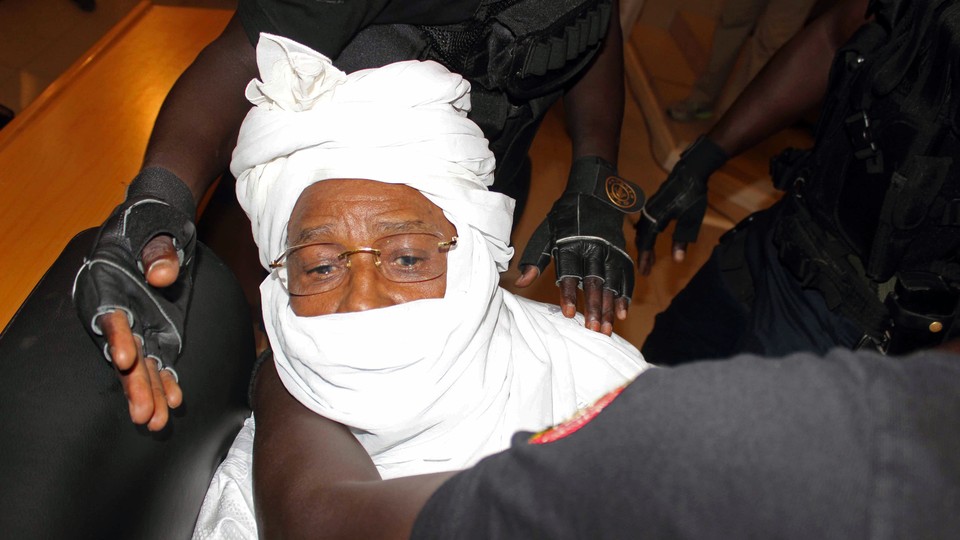 On the face of it, Augusto Pinochet and Hissène Habré have little in common—besides both being backed by the U.S. during the Cold War. Pinochet, the longtime Chilean president, saw himself as a conservative defender of traditional values and was a staunch opponent of communism. Habré, the former Chadian president, was a desert warlord who billed himself as an anti-imperialist who quoted Mao Zedong and Che Guevara.
But the arrest of Pinochet in London 18 years ago Friday set an important precedent that resulted in Habré's ongoing trial in Senegal on charges of crimes against humanity, says Reed Brody, counsel and spokesman for Human Rights Watch who is one of the driving forces behind the trial.
"This case is a direct result of the Pinochet case," he said in a telephone interview from Dakar, the Senegalese capital. "When the House of Lords ruled that Pinochet could be arrested and prosecuted anywhere in the world, despite his status as a former head of state, the human-rights movement was in effervescence. It showed that we had an instrument to hold accountable people who seemed out of the reach of justice until then."
Pinochet came to power in 1973 in a coup in which he toppled Salvador Allende, the head of the country's left-wing government. Over the next nearly two decades, he left behind a legacy of torture, executions, and disappearances. He left office in 1990, but maintained powerful positions in the military and the senate. But Pinochet never stood trial—partly because of his age and health—and died in 2006 while under house arrest in Chile.
Still, soon after the House of Lords stripped Pinochet of his immunity in 1998, Brody says he was approached about trying to do the same thing with Habré.
"We kind of gave him the monicker the African Pinochet as a way of underlining what it was that we were trying to do: brining a dictator to justice in the country where he was found and applying the Pinochet principle in Africa," Brody said.
Habré, who came to power in 1982, is accused of killing and torturing thousands of people during his eight years as Chad's president. He was ousted in 1990 and has lived in Senegal since then. But in 2013, after much stalling, Senegal indicted Habré, and that's where he is being tried in a court backed by the African Union.
It's the culmination of two decades of campaigning by Habré's accusers and human-rights groups to bring him to justice. As we reported in July, it's the first African demonstration of the principle of universal jurisdiction, which allows national courts to prosecute crimes committed abroad.
This week, Habré's trial ended its seventh week. Witnesses in the case so far include human-rights activists, Chadian officials, a Belgian judge who had studied the case, and Bandjim Bandoum, a former head of Habré's political police, the Documentation and Security Directorate (DDS).
"Records of the questioning of detainees came back from the presidency with annotations: E for 'execute'; L for 'set free' or V for 'seen,'" Bandoum said in testimony last month, which was reported by AFP. He said Habré was "aware of everything that was happening" in the department's detention centers.
But Mbaye Sene, who is defending Habré, questioned the extent of the role Habré had in the DDS's actions.
"If you've never been to the presidency, you've never talked to him, tell me how Hissène Habré gave you orders," he said.
To prosecution witness Mahamat Hassan Abakar, who heads a commission investigating atrocities committed under Habré, he said: "You say that the DDS was the president's 'thing'—then prove it."
It's an attempt to introduce doubt into the case against Habré. Brody points out that one challenge in the case is to show Habré bears legal responsibility for the crimes—not just to prove the crime.
"A lot of the challenge for the prosecution and for the victims ... is to show that Habré either directly or indirectly bears legal responsibility," he said.
Another challenge has to do with the legitimacy of the court itself. Habré, 72, has called the court "illegitimate and illegal," and both he and his lawyers had refused to participate. Habré had to be dragged into court and was prone to outbursts while he was there. The court adjourned for 45 days in July to give his court-appointed lawyers time to prepare for the trial.
Habré is now brought in before the daily proceedings begin. He sits silently through the day with his face wrapped in a turban and his eyes covered by sunglasses. Mere feet away from him, witness after witness recounts being tortured or losing loved ones. But there are challenges with the testimony, too.
"There are a number of witnesses who have been very forceful. And a number of witnesses who didn't remember very much," Brody said. "In many cases, you're dealing with illiterate people about things that happened 30 years ago."
Usually, a trial such as this would go to the International Criminal Court, which was set up to handle circumstances such as these. But the ICC has a checkered reputation on the continent. As my colleague David Graham has reported:
Opinion about the ICC has shifted in Africa since it was chartered in 1998. Initially, it had strong support—particularly in the aftermath of the Rwanda genocide, [Brookings Institution scholar John Mukum] Mbaku has written, when "there was an urgent need in Africa to squarely confront impunity and the mass violation of human rights." Since then, some governments and thinkers have apparently revised their opinions.

One reason is that every indictment issued by the ICC has been in Africa. The court's jurisdiction is somewhat hobbled by the non-participation or non-cooperation of many countries, most notably the United States. But the fact remains that Africa has been the focus of a court based in Europe, and given that memories of colonialism are in some places still fresh and very raw, that raises hackles.

Add to that the fact that while the court can mete out an abstract sort of justice, it has little power to make things right for victims. It's all well and good to lock up a perpetrator, but it doesn't do much to restore the damage. When those trials happen in The Hague, far away from where the crimes were committed, there may be little chance for many victims to take part in the proceedings anyway.
Habré's trial—which is being live-streamed on the Internet, and being closely watched in Chad—might point towards a model of how such cases can be tried in Africa, rather than in The Hague. As Brody said in an in interview in July:
"What is remarkable about this case is that the victims, the survivors have been the architects, the driving force behind this case, and people see that. In this case, the optics here, the way the case has been played out very publicly, particularly in French Africa ... people have been following the saga of the victims."