No Charges for Cecil the Lion's Killer
Zimbabwean authorities reversed course on Monday, deciding against charging the American who poached the country's beloved lion.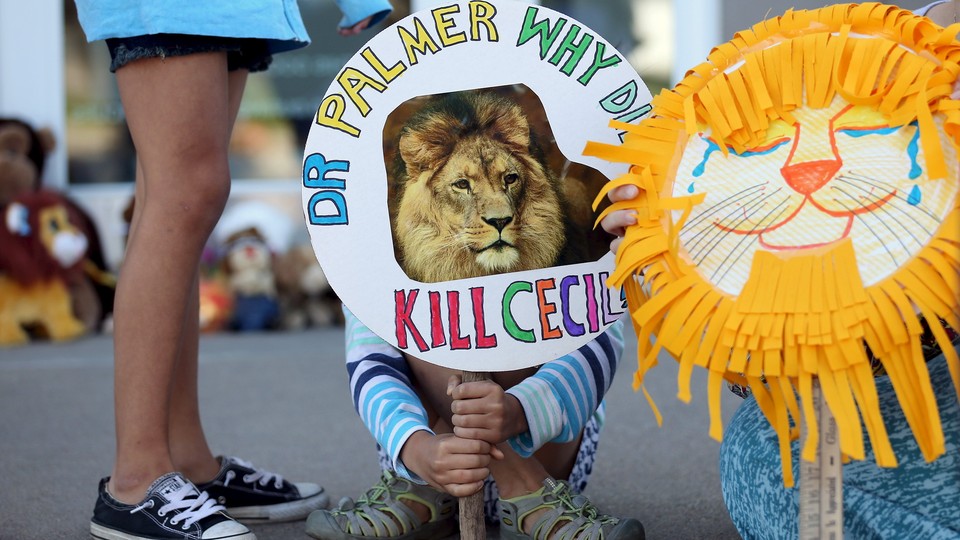 The American dentist who killed a lion in Zimbabwe this summer will not face charges, the country's officials said.
A cabinet minister said Monday that Zimbabwe will not attempt to extradite James Walter Palmer, who shot to death Cecil, a lion beloved by locals and researchers, in July, the Associated Press reports. After the killing, Zimbabwe officials had vowed to bring Palmer, who lives in Minnesota, back to the country to face poaching charges. The AP explains why law enforcement has stepped back:
[Environment minister Oppah Muchinguri-Kashiri] told reporters in Harare that Palmer can now safely return to Zimbabwe as a "tourist" because he had not broken the southern African country's hunting laws. She said the police and the National Prosecuting Authority had cleared Palmer of wrongdoing.
The death of Cecil, who lived in Hwange National Park, sparked outrage across the globe from a variety of people, including animal conservationists and politicians. Palmer received a slew of hate messages, and protesters surrounded his dental office in Bloomington, Minnesota, which closed temporarily. More than 230,000 people signed a White House petition that urged the U.S. State and Justice departments to work with Zimbabwe on the potential extradition request. The U.S. Fish and Wildlife Service said it would "assist Zimbabwe officials in whatever manner requested."
Palmer allegedly paid $55,000 to hunt Cecil. The lion was lured from the wildlife refuge and onto private property, where he was shot with an arrow, skinned, and decapitated. Zimbabwe officials have filed criminal charges against a guide and a landowner who helped Palmer.
The 13-year-old lion was part of long-term research at Hwange, and had protected status.