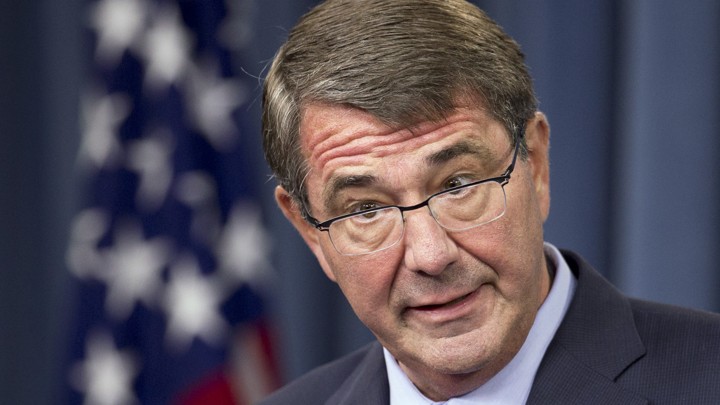 Defense Secretary Ash Carter says he expects more missions of the kind that saw an American service member killed on Thursday in an operation to rescue dozens of prisoners held by the Islamic State in Iraq. But he insisted the operations did not contribute to an expansion of the U.S. military role in the country.
"I expect we'll do more of this sort of thing," he said, before adding: "It doesn't represent us entering the combat role."
U.S. troops left Iraq in 2011, and remain there in an advisory role.
Carter said the operations simply enhanced the effort to train, advise, and assist Iraqi forces. But he added: "They will be in harm's way. I don't want anybody to be under any illusions about that."  
As we reported Thursday, the soldier was killed in a raid by U.S. and Kurdish commandos on an Islamic State base in Hawijah, Kirkuk province, following a request from the Kurdistan Regional Government. About 70 hostages, including dozens of civilians, were freed. The Pentagon said they faced imminent execution.
The Pentagon identified the slain soldier as Master Sergeant Joshua L. Wheeler, 39, of Roland, Oklahoma. Wheeler, who was assigned to U.S. Army Special Operations Command at Fort Bragg, North Carolina, is the first American soldier to die in Iraq after the U.S. withdrawal in 2011.   
On Friday, Carter added he made the decision to aid the Kurdish troops after receiving actionable intelligence the hostages faced imminent execution. He said the hostages, who have since been debriefed, had told them that their graves had been dug.
"We had seen them [graves] beforehand," Carter said.
Here's how the Pentagon described the U.S. role on Thursday:  "The U.S. provided helicopter lift and accompanied Iraqi Peshmerga forces to the compound." The Peshmerga came under fire, Wheeler was injured, and died later, the Defense Department said.
On Friday, Carter provided more details about Wheeler's actions: "He ran toward the gunfire," he said.
He said he was proud of Wheeler's actions and called them courageous.
"It wasn't part of the plan, but it's something that he did," he said.
Carter also added that U.S. operations against the Islamic State will focus on the group's oil infrastructure, which is a major source of revenue for the group.
We want to hear what you think about this article. Submit a letter to the editor or write to letters@theatlantic.com.