An Iranian General Is Killed in Syria
Commander Hossein Hamedani died at Islamic State hands as Iran steps up its involvement in the Syrian civil war.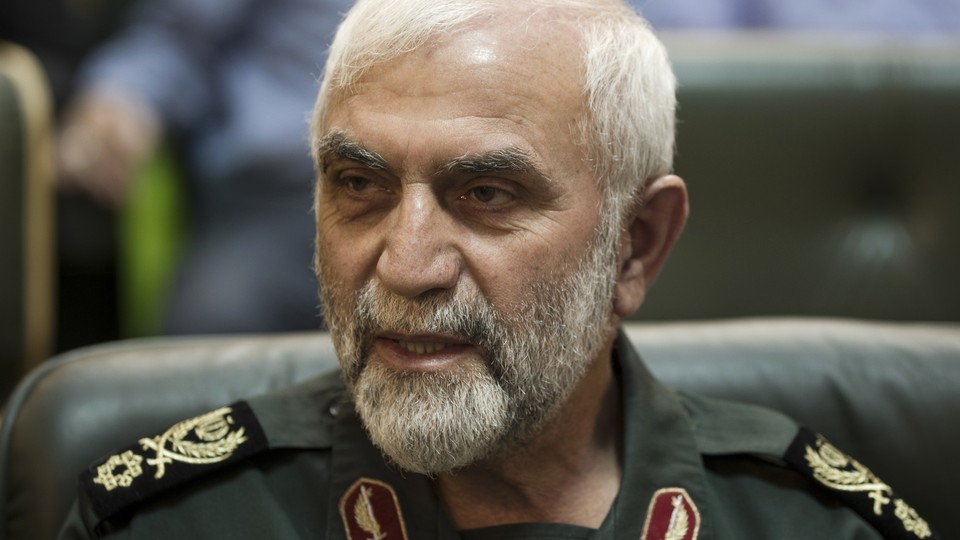 In May 2014, Hossein Hamedani, a top general in Iran's Islamic Revolutionary Guards Corps, made a statement at a council meeting in Hamedan, the western Iranian province.
"Today we fight in Syria for interests such as the Islamic Revolution," he said, adding, "Our defense is to the extent of the Sacred Defense"— a reference to Iran's eight-year war with Iraq in the 1980s.
FARS, Iran's state-run news agency, later struck his remarks from their account of the meeting because it contradicted Tehran's official line—Iran is not militarily involved in the five-year-old Syrian civil war. As Radio Free Europe/Radio Liberty noted, Hamedani's boasts that Iran had created "a second Hezbollah" and that Iran's efforts meant the Assad regime in Syria was no longer "at the risk of collapse" were also removed.
On Friday, Iran announced Hamedani had been killed this week in Syria in an ISIS attack. According to the Syrian Observatory for Human Rights, the general and some of his bodyguards were killed outside a military airport near Aleppo.
President Hassan Rouhani praised Hamedani as a "martyr" and said his death was a "big loss."
The New York Times reported that Hamedani's "death illustrated both the level of Iran's direct involvement on the government side in the Syrian civil war, and the pervasive violence of the conflict."
Even as Iran has denied it, the country's level of involvement in the Syrian civil war has always been substantial. However, as the Assad regime has continued to lose its grip on territory and control, the Iranians have scaled up their presence to bolster the Syrian leader. Just last week, The Wall Street Journal noted Iran's latest major expansion of troops, which was being coordinated with Russia's launching of airstrikes in Syria, and an offensive by Bashar al-Assad's forces.
The costs of Iran's involvement in Syria are also increasing. The news of Hamedani's death dovetails with a statement by U.S. Defense Secretary Ash Carter confirming reports that four cruise missiles fired by Russia from the Caspian Sea had errantly landed in Iran. Russian media have dismissed that claim.