A Russian Violation of Turkish Airspace
Turkey says its F-16s intercepted a Russian warplane. Meanwhile, the Islamic State destroyed another historic treasure.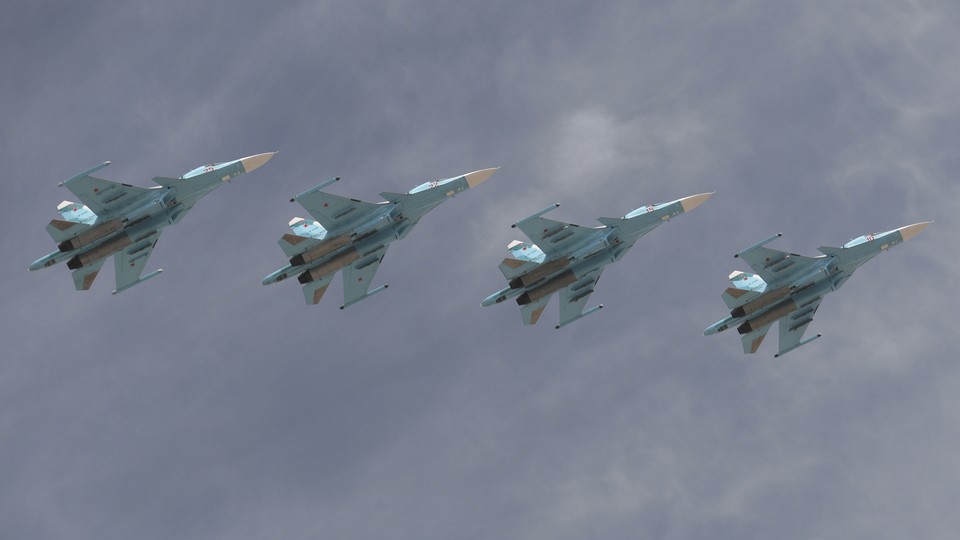 Turkey says a Russian warplane violated its airspace over the weekend, but left after its F-16s intercepted the aircraft. It's the latest sign of tensions between Russia and the U.S. and its allies over Moscow's role in the Syrian civil war.
The Turkish Foreign Ministry in a statement said the Russian plane violated Turkish airspace on Saturday south of Yayladağı, in the Hatay Province. The statement said the Russian ambassador to Ankara was summoned to the Foreign Ministry and Turkey "demanded that any such violation not be repeated and affirmed that, otherwise, the Russian Federation will be responsible for any undesired incident that may occur." It said the Turkish foreign minister spoke to his Russian counterpart and reiterated those views.
In Moscow, Russia said it was continuing its strikes against the Islamic State.
Last week, Russia began airstrikes in Syria against the Islamic State, one of several groups fighting against President Bashar al-Assad. But Russian airstrikes have also targeted Western-backed groups that are fighting the Syrian leader. The U.S. and its allies are conducting their own airstrikes in Syria, but these are targeting the Islamic State.
On Friday, President Obama said Russia's actions would lead it into a "quagmire" in Syria. He said the two countries had a "common interest in destroying ISIL," but Russia "doesn't distinguish between ISIL and moderate groups."
The New York Times is reporting that the U.S.-led coalition has "begun preparing to open a major front in northeastern Syria," aiming to put pressure on Raqqa, which is controlled by the Islamic State.
Meanwhile, activists are Syrian officials say the Islamic State has destroyed the historic Arch of Triumph in the ancient city of Palmyra. The arch is believed to have been built about 2,000 years ago.
The Islamic State previously destroyed the Temple of Baalshamin and the Temple of Bel, both in Palmyra, a UNESCO Heritage Site that is now controlled by the group. The Islamic State believes that such sites represent idolatry.