Willkommen: Germany's Policy on Migrants
The vice chancellor says the country can take in half a million asylum-seekers a year for the next several years.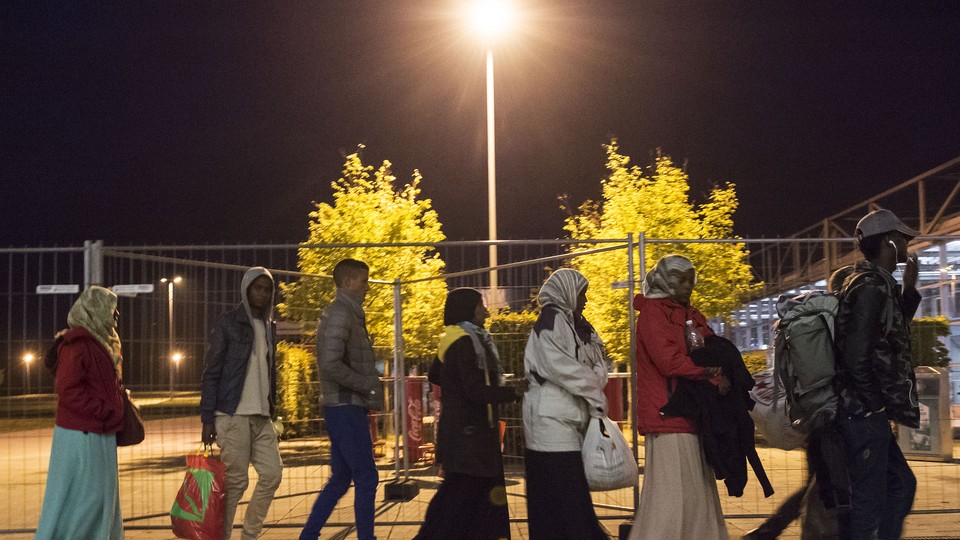 Germany's vice chancellor says the country can take in 500,000 asylum-seekers annually.
"I believe we could certainly deal with something in the order of a half a million for several years," Sigmar Gabriel, the vice chancellor, told ZDF television. "I have no doubt about it—maybe even more."
Gabriel's remarks come as Europe is facing its most severe migrant crisis since World War II. His country is already taking in more migrants than any other in the 28-member European Union. This year alone, it is accepting 800,000—four times the number it took in 2014.
Most of the migrants are Syrians, fleeing the civil war in their country. That conflict has created more than 4 million refugees, the vast majority of them in camps in Lebanon, Jordan, and Turkey. Germany is the favored destination for many of these refugees.
Gabriel said that while Germany could take large numbers, other EU member states must do their part. Germany and France want an EU-wide quota system for the migrants, but that's a plan some Central and Eastern European countries—Hungary, Czech Republic, Slovakia, and Romania—are opposed to. Denmark
is also
deterring migrants from coming to its borders.
The European Commission is expected to propose quotas this week. Here's more from
Reuters
:
The European Commission will propose national quotas to relocate 160,000 asylum-seekers arriving in Greece, Hungary and Italy, with Germany taking in more than 40,000 and France nearly 31,000. Countries that do not want to take part would be able to make financial contributions to buy their way out of the obligation on a temporary basis.
The flow of migrants meanwhile continues. On Monday, 7,000 migrants arrived in Macedonia. Some 30,000 others are on Greece's islands,
including Lesbos
, awaiting processing.