Voices From the Migration Crisis
Editor's Note:
This article previously appeared in a different format as part of The Atlantic's Notes section, retired in 2021.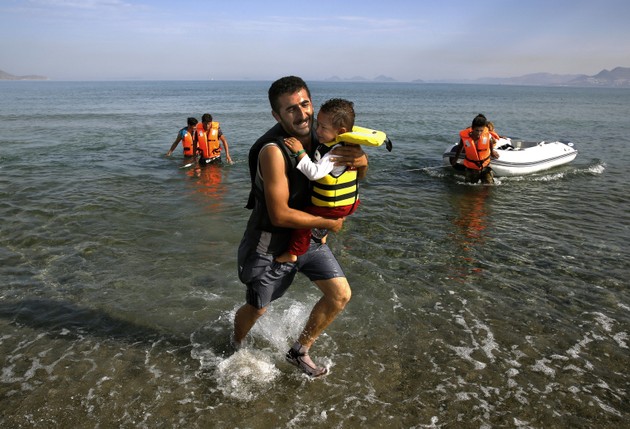 Images like this of migrants trying—and sometimes dying—to reach Europe have drawn international attention to the crisis, along with criticism that countries are not doing enough. Here are some voices of European officials, citizens, and of the migrants themselves.
European Leaders
Germany's Chancellor Angela Merkel's voice is a powerful one within the European Union. Her country has accepted more refugees than any other in the region, and on Monday, announced it would set aside 6 billion euros to help refugees.
"If Europe fails on the question of refugees, if this close link with universal civil rights is broken, then it won't be the Europe we wished for," Merkel said.
British Prime Minister David Cameron is among those who has argued that Europe cannot cope with the unprecedented numbers of refugees seeking a place to live—though he has appeared to relent under pressure. On Monday, Britain said it would accommodate 20,000 refugees from Syria.
"I don't think there is an answer that can be achieved simply by taking more and more refugees," Cameron said last week.
Hungarian Prime Minister Viktor Orban, whose country has become the focus of the crisis, is one of the strongest critics of accepting migrants.
"If we would create ... an impression that 'just come because we are ready to accept everybody,' that would be a moral failure," Orban said. "The moral, human thing is to make clear: Please don't come."
European public
Many Europeans want their governments to take in more refugees.
In Iceland, author Bryndis Bjorgvinsdottir set up a Facebook group as an open letter to Iceland's welfare minister to show the country can cope with migrants. Eleven thousand Icelanders in the group offered their homes to Syrian refugees.
"They are our future spouses, best friends, the next soul mate, a drummer for our children's band, the next colleague, Miss Iceland in 2022, the carpenter who finally finishes the bathroom, the cook in the cafeteria, a fireman and television host," Bjorgvinsdottir wrote.
In Hungary, volunteers set up another Facebook group aimed at helping refugees in Szeged. Thousands joined the group, donations poured in, and volunteers are now able to provide 24-hour care to those stranded in the small town without food or warm clothes
One local volunteer, Dániel Szatmáry, said the first afternoon he planned to help for half an hour, but ended up staying all night.
"We can hear their stories: an 18-year-old Syrian guy told me that he had left because his parents and three sisters had been killed," he said.
But there are European opponents, too. Hundreds gathered in German towns to condemn their entry, shouting "foreigners out" and throwing rocks and bottles. In the Icelandic Facebook group, some commenters demanded that incoming refugees denounce ISIS in writing before being allowed into the country.
The refugees
Jenan Moussa, the journalist, hosted a Twitter conversation with Abu Yazan, a Syrian man planning his journey to Europe.
One question he answered: "You know you're not wanted, don't you?" His reply:
I spoke with Lu Al Ghina, a Syrian woman who left to live with cousins in the U.S. She described her aunt Laura's recent journey from Syria to Europe where she arrived Thursday. Her aunt, she said, left Turkey—aided by smugglers—in a rubber boat, and arrived in Greece. From there, they sailed to Bulgaria and crossed fences to reach Germany.
"It was unbearable for her to stay in Syria," Al Ghina said. "She wanted a better future for her two little daughters."
She says her aunt will stay in Germany until things improve in Syria.
"Most refugees, including me, will go back as soon as Syria is free," she said. But for now, with ISIS and [Syrian President Bashar] Assad destroying the country, there's now way for us to survive there."
Abu Yazan was less optimistic.
"I will not go back to Syria," he said. "All my memories there were destroyed."