The Vatican's New Policy on Annulments: The First Hint of Shake-Ups to Come
On Tuesday, Pope Francis made official reforms in Church law on marriage. But what happens next will be even more important.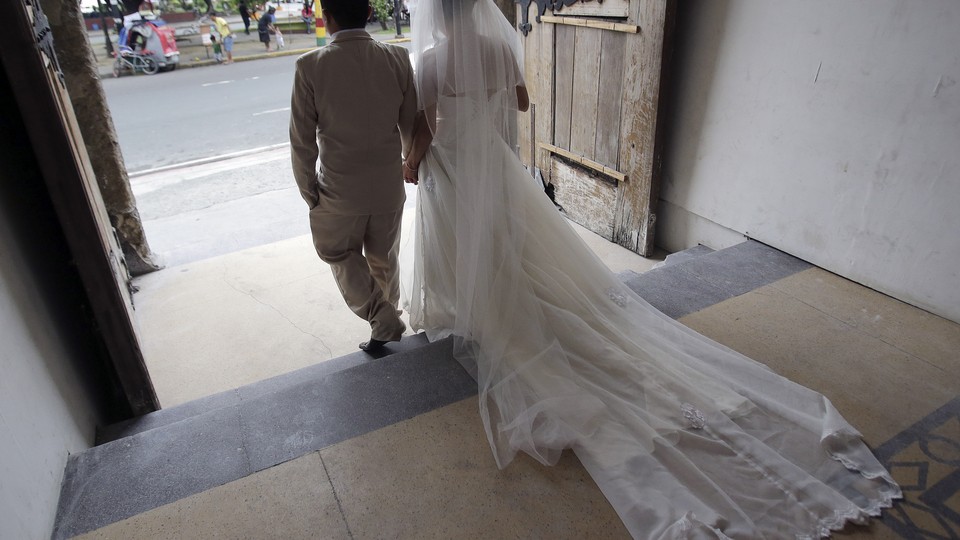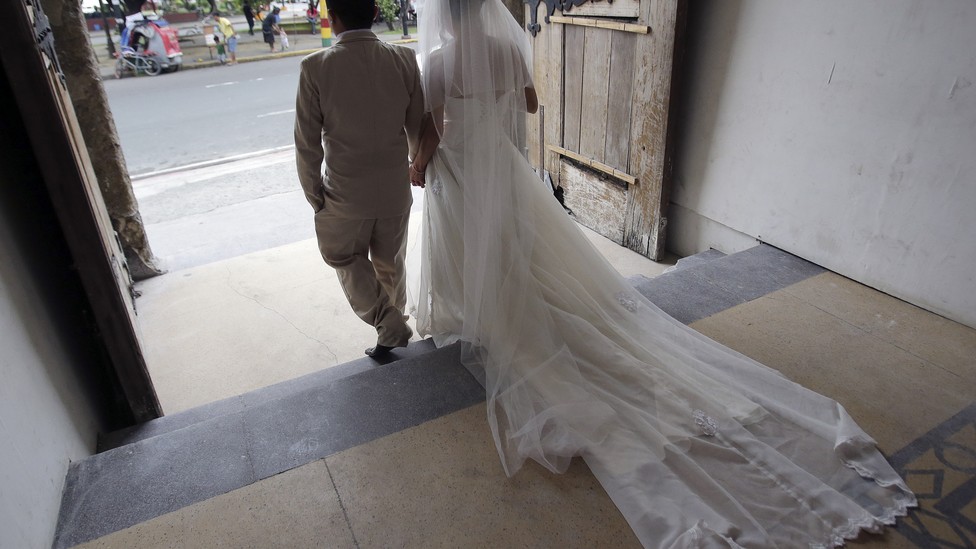 For almost a year, Church watchers have predicted this day would come: The Vatican has officially changed canon law on marriage annulments, making it easier for Catholics to split from their spouses with the blessing of the Church. When Pope Francis gathered the bishops of the Church for a historic synod in Rome last October, divorce and annulments were major topics of discussion. In about a month's time, the bishops will revisit those topics in a follow-up meeting that's expected to shift the Church's posture toward family life. In many ways, Tuesday's announcement on annulments is the first tremor before the big changes to come.
But before Catholics rush out to their local Church tribunal to ask for a reversal of their vows, a few notes. First, Tuesday's changes speak specifically to the issue of nullity, or the question of whether a marriage was ever valid in the eyes of the Church. These are reforms to the "the relatively complicated and time-consuming judicial procedure that the Church has used since at least the Middle Ages to deal with issues of marital breakdown," said Father John Beal, a professor of canon law at Catholic University.
If a person claims his or her marriage is null, the Church will undertake an investigation. Since about 1750, these claims have had to get approval from two separate tribunals; Tuesday's reforms eliminate the mandatory second trial, except where one party disputes the nullity claim. They make it possible for more cases to be brought before just one judge—or, significantly, a tribunal that includes a cleric and two lay people, said Beal.
This isn't the first time the Church has experimented with this new structure. "We tried that in this country between 1970 and 1983," said Beal. "The bishops of the United States were concerned that the annulment process was taking too long and was too complicated, so they asked for some changes on an experimental basis." The change yielded big results: By eliminating the second tribunal, "about 90 percent or more of the cases were finished after one decision," Beal said. But when the revised code of canon law went into effect in 1983, the U.S. reverted back to requiring two tribunals.
Tuesday's reforms don't change the Church's broader teachings on marriage. "Church doctrine is that fidelity to the teaching of Jesus requires us to look at marriages as not just permanent, but [indissoluble]," Beal said. And it's still the case that only certain kinds of marriages are eligible for annulment. There are three broad categories of marriages that can be considered null, Beal said: Marriages that weren't conducted properly, before a priest and two witnesses; marriages that suffer from some sort of "impediment," meaning the husband and wife were too closely related or one spouse was too young, for example; and marriages that suffer from "defective consent." This is the category of claims that will be most affected by Tuesday's decision, said Beal: cases of one spouse being mentally ill or not open to having children or committing infidelity, for example.
On a global scale, annulment is fairly rare. According to Crux, the Church issues only about 60,000 of them each year. The majority of these take place in the United States: While only 6 percent of the world's Catholics live in America, they account for somewhere between 55 and 70 percent of cases, according to Crux.
In part, this is what Francis and his council of advisors are hoping to change. In a speech to the Roman Rota, or the Church's highest tribunal, this January, the pope charged the auditors, or judges, "Do not close the salvation of people inside a juridical bottleneck." According to Rocco Palmo of the blog Whispers in the Loggia, this was partly in reference to the many annulment cases that have gotten backlogged before the Church's tribunals. Throughout his papacy, Francis has tried to root out bureaucratic inefficiencies in the curia, or body of officials who govern the Church. This change is in keeping with this theme: It's mainly aimed at making the annulments process less bureaucratic and more timely by reducing the number of officials who have to sign off on requests.
Although the U.S. is home to most of the world's annulments, these changes could have the biggest effect elsewhere. From the viewpoint of the Vatican, the United States is a country that needs more marriage, not less—according to Pew, one in four American Catholics have gone through a divorce, which is not condoned by the Church. Later this month, Francis will visit America for the first time ever for the World Meeting of Families, where he'll likely emphasize the moral importance of marriage and family.
The announcement may be most significant for places like the Philippines, an overwhelmingly Catholic country where it is illegal to get a divorce and the annulment process is incredibly bureaucratic. As Ana P. Santos wrote in The Atlantic in June,
Under Philippine law, two people wishing to end their marriage have limited options. They can file for legal separation, which will allow them to separate their possessions and live apart, but does not legally end a marital union and thus does not permit remarriage. They can file for divorce if they are among the estimated 5 percent of the population that is Muslim and is governed by the Code of Muslim Personal Laws.

Or they can get an annulment, which in the Philippines is a lengthy and expensive court proceeding. (An ecclesiastical annulment, granted through a Church tribunal, is a separate procedure, without which a Catholic cannot get remarried in the Church. Pope Francis has said that the Church should "streamline" this process, which can take up to a decade.) An annulment ends a marriage, but differs from divorce in important ways. The parties, for instance, must prove that the marriage was never valid to begin with. Under Philippine law, reasons can include one or both parties having been below the age of 18 when they got married, either party having an incurable sexually transmitted disease, or cases of polygamy or mistaken identity.
The biggest changes in the Church's stance on family issues are yet to come—at the synod next month, for example, the bishops are expected to issue statements on whether divorced and remarried Catholics can take communion. If the bishops do approve that change, said Beal, "It could make all of this much ado about nothing." In other words, as Ross Douthat has argued, if civilly divorced and remarried Catholics are allowed to take communion, it may create a disincentive for people to go through the Church's official annulment process.
So stay tuned: This is a fairly big legal shift for the Church, but it remains to be seen how the reforms will play out in practice—or whether the Church will make even bigger changes in its laws on ending marriages.