The Pope and the Migrant Crisis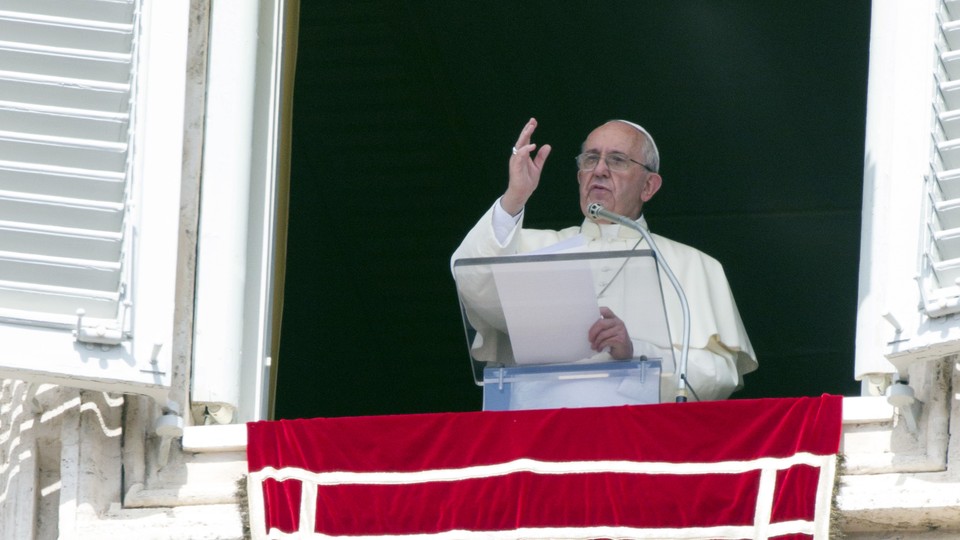 Editor's Note:
This article previously appeared in a different format as part of The Atlantic's Notes section, retired in 2021.
Updated on September 6 at 1:02 p.m. ET
Pope Francis wants European parishes to offer shelter to migrant families.
"Every parish, every religious community, every monastery, every sanctuary of Europe, take in one family," he said in today's Angelus at St. Peter's Square.
Europe is seeing the largest flow of migrants since World War II, and that flow has been accompanied by tragedy. Their long march from Hungary toward Germany has prompted both large shows of welcome, as well as opposition.
As we witness the "tragedy of tens of thousands of refugees that flee death in conflict and hunger and are on a journey of hope, the Gospel calls us to be close to the smallest and to those who have been abandoned," the pope said in his prayer today.
Europe is struggling with what to do with the migrants, many of whom are fleeing civil war in Syria. Here's more from The New York Times:
The European Union, which operates by consensus among its 28 member states, is debating what to do, but considerable resistance remains among central European states like Poland, Slovakia and the Czech Republic, as well as from Britain, to accepting mandatory quotas of migrants, as France and Germany have proposed.

Chancellor Angela Merkel of Germany has been praised for her moral leadership for saying that all Syrian migrants would be allowed to come to Germany and apply for asylum.

But some have argued, like Mr. Orban and Prime Minister David Cameron of Britain, that simply opening the European door will cause many more thousands of migrants and asylum seekers to abandon refugee camps in Jordan, Lebanon and Turkey, and embark on the hazardous and expensive journey to Europe, promoting more people smuggling, and not less.
David Stewart, in the Catholic magazine America, responds at length to the pope's Sunday address. He also challenges a key distinction:
I'm going to avoid writing "migrant" when, I suggest, we should be saying "refugee." There is a burgeoning online campaign here trying to persuade the BBC to do the same. The difference between talking about migrants and refugees matters. The UNHCR defines a refugee as one who "owing to a well-founded fear of being persecuted for reasons of race, religion, nationality, membership of a particular social group or political opinion, is outside the country of his [sic] nationality." According to some, many of Europe's refugees are not that; they are economic migrants. This needs challenging. To label someone a migrant demands much less of you than a refugee would, be that legally or morally, on this thinking. We need to recognize this fact.

But this raises a further question, one that needs to be discussed. What is so terribly wrong about being an economic migrant? What is so despicable about wanting a decent life? Even if some of the people we've seen on the move are not fleeing, say, Asaad's murderous regime or the horrors of Isis/Da'esh, we must ask the prima facie question of why we would refuse entry to a family fleeing poverty and hoping to establish a new life in the prosperous West. Our Christian morality, first forged and articulated by a people in flight from both violence and poverty, requires us to consider welcome first. [...]

Perhaps they do indeed pose a threat to our culture. If that's a culture of individualistic and materialistic selfishness, maybe such a threat is no bad thing?
Your thoughts? Email hello@theatlantic.com.