Editor's Note:
This article previously appeared in a different format as part of The Atlantic's Notes section, retired in 2021.
Alan's photos of the week just went up. This one struck me the most, probably because I've had open-pit mines on the brain today: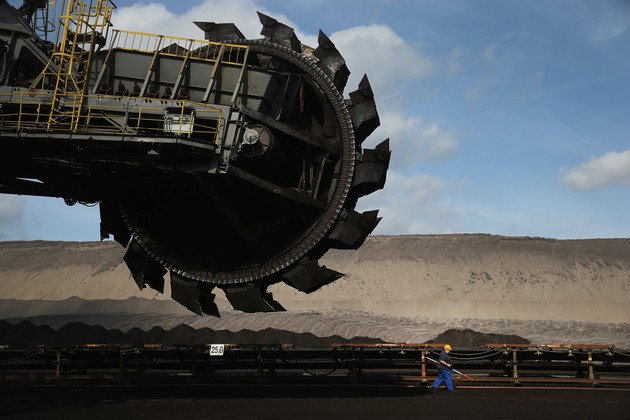 Here's Alan's caption for the Getty photo by Sean Gallup:
A worker walks past a bucket-wheel excavator in the Welzow Sued open-pit lignite coal mine on September 25, 2015, near Welzow, Germany. Before the communist government of East Germany collapsed in 1989 open-pit coal mines were a vital source of employment in the region and their decline has pulled the local economy down with them. The Welzow Sued mine is one of five left in the Lausatz region from 17 that existed in 1989. It is scheduled to remain in operation until 2042.
Alan also highlighted the stunning shot below of "trucks operating in the open-pit mine of PT Freeport's Grasberg copper and gold mine complex near Timika, in the eastern region of Papua, Indonesia":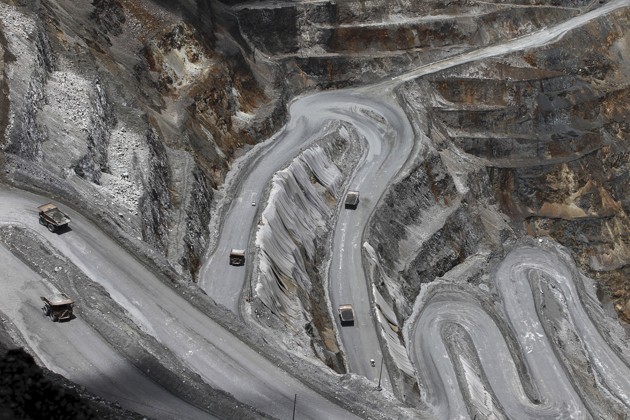 And finally a photo of a very different kind of pit:
Alan's caption:
Indian people gather at the historic Chand Baori stepwell in Abhaneri village of western Rajasthan state on September 24, 2015. For a few hours on one day each year, local residents are permitted to descend into the 100-foot-deep, 1,200-year-old stepwell, as Hindu devotees in the area mark a local festival, at the same time as Hindus worldwide observe Ganesh Chaturthi festivities. Chand Baori is one of the oldest and largest stepwells in the world, with some 3,500 steps laid out in a geometric design down to the water at its base. (Alex Ogle / AFP / Getty)
Even before looking at the caption I had a hunch the photo was taken by Alex, a good friend of mine, because last night I had seen similar photos on his Instagram account, which you should definitely check out. (117,000 followers agree.) Alex's Hong Kong photos are especially popular.