The Man Who Killed Cecil the Lion Speaks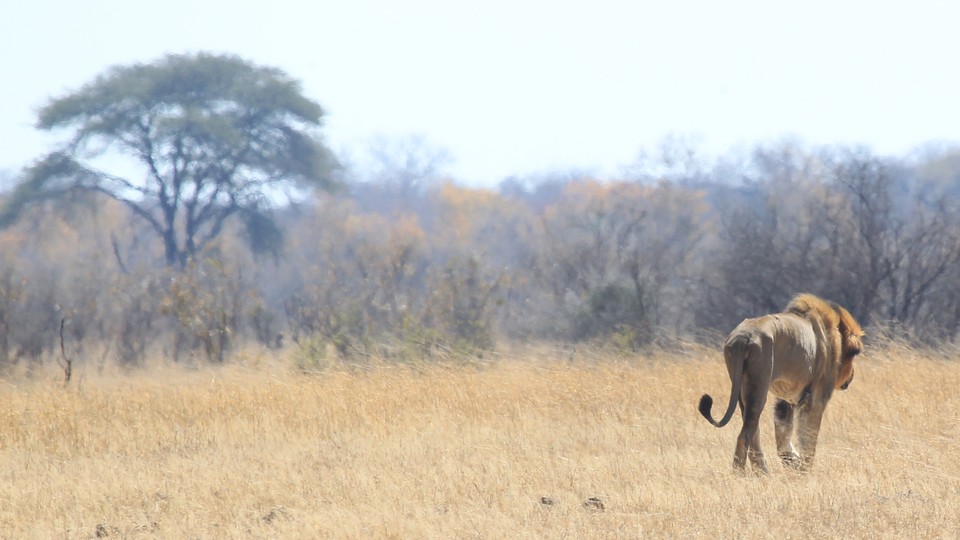 Editor's Note:
This article previously appeared in a different format as part of The Atlantic's Notes section, retired in 2021.
The Minneapolis Star Tribune has published an interview with the Minnesota dentist who sparked a worldwide outcry after he paid a large sum (reportedly around $54,000) to lure and kill a lion in Zimbabwe:
Walter J. Palmer, of Eden Prairie, meeting face to face in Minneapolis with two reporters for his first interview since Cecil the lion's death, fielded questions for 20 minutes about his safari hunt in early July and the passionate worldwide condemnation that has compelled him to keep a low profile.
The 55-year-old Bloomington dentist, who has yet to be charged with a crime, on Sunday also reaffirmed what he has said since he was identified by London news media six weeks ago as the hunter who took down Cecil with a compound bow: that the hunt was legal and that he and the others in his party had no clue that the lion was the revered 13-year-old with the distinctive black mane.

Palmer declined to address whether he would abide by any request, either informal or through extradition proceedings, to return to Zimbabwe to answer legal allegations.
For years, proponents of trophy hunting have argued that the sport is actually a help to conservation. An organization representing the commercial trophy-hunting industry says that, in Africa, the sport generates revenues of as much as two hundred million dollars a year. If the fees are high enough, proponents claim, the hunting will be limited to a sustainable level, and the revenues will filter back into the desperately poor communities that surround many African game parks, discouraging residents from killing the animals themselves and encroaching on their habitats.

In practice though, studies have shown that only about three per cent of these fees actually reaches the local communities. Most of the money is siphoned off by the hunting industry and government officials. Meanwhile, in the eight sub-Saharan countries that currently sell permits allowing hunters to target lions, the animals' numbers are dwindling alarmingly. Only thirty-two thousand to thirty-five thousand lions are now believed to live in the wild, down thirty per cent over the past twenty years. The decimation of African savannah elephants and other big game species is more alarming still, suggesting that leaving the free market to protect endangered species is a fatal fallacy.
The New York Times in August published a look at the statuses of the "Big Five" animals in big-game hunting, and found a mixed picture. When it comes to lions, the Times reported:
Overhunting has caused a decrease in the number of lions in some areas, especially Tanzania, according to a 2012 study, and hunting has been restricted there. But the researchers behind that study concluded that hunting was less of a risk than an outright ban.

Without the trophy hunt money, locals would increasingly poison lions, which are considered dangerous to humans and livestock, said Vernon Booth, a Zimbabwe-based ecologist.