The Continuing Battle for Kunduz
Afghan forces, aided by U.S. airstrikes, failed to retake the city that was captured by the Taliban on Monday.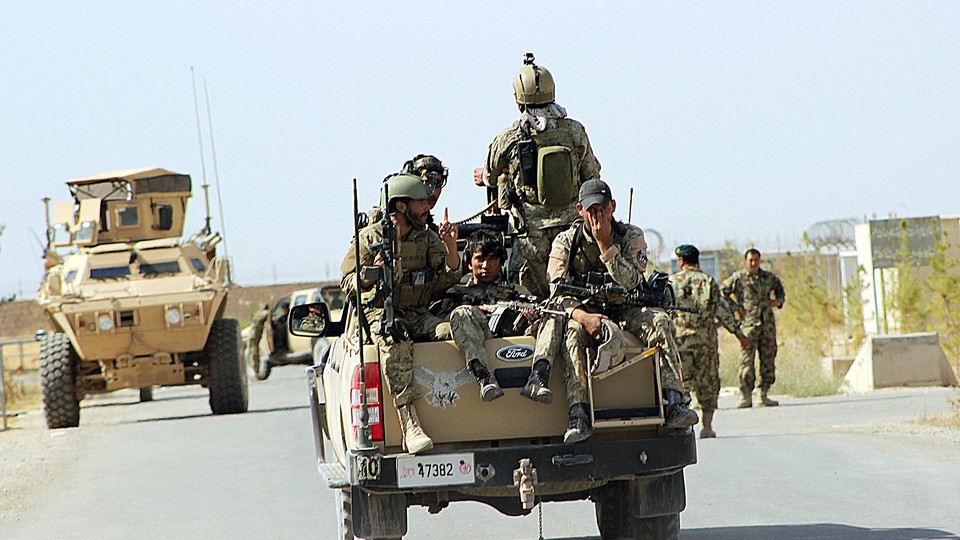 Afghan forces, aided by U.S. airstrikes, failed to retake the city of Kunduz that was captured by the Taliban on Monday—the militant group's biggest prize since it was ousted from power following the U.S.-led invasion of 2001.
U.S. planes struck Taliban targets near the city's airport, driving the militants back. The airport is where government troops and civilians fled after the Taliban overran the city. The Afghan government has sent reinforcements to Kunduz, the capital of the province of the same name. A NATO spokesman said special forces from the military alliance were on the ground in Kunduz, advising their Afghan counterparts. Agence France-Presse reported the forces were from the U.S., Britain, and Germany.
The New York Times quoted Afghan government officials as saying U.S. special forces "headed out toward the city with Afghan commandos." Their role there wasn't clear, but the Times added: "[A]t least one American operation in the city of Kunduz failed. An Afghan security official, speaking on the condition of anonymity, said that American forces had sought to resupply a group of beleaguered Afghan soldiers trapped in an ancient fortress north of the city."
The progress of government reinforcements has been slowed by Taliban ambushes in the roads leading up to the city, as well as landmines.
President Ashraf Ghani, who marked one year in office on Tuesday, has vowed to take Kunduz back, but the loss of the city is an embarrassment to his effort to bring security to Afghanistan a year after U.S. and NATO troops left the country.
On the other hand, the capture of Kunduz is a major victory for the Taliban, a group that might have been forgotten in the West because of competition elsewhere from organizations such as the Islamic State that might espouse a similar brand of Islam, but are even more brutal in their tactics, and even more successful in their military achievements. The Taliban has also been riven by factionalism since the death of its leader, Mullah Muhammad Omar, was confirmed in July, but the capture of Kunduz is likely to bolster Mullah Akhtar Mansour, its new chief.
But to those in Kunduz province and the city itself, the Taliban's stunning victory wasn't unexpected. The Taliban has besieged the northern city, an important transportation hub, for months, and local officials say they repeatedly asked Kabul to send reinforcements, which never came.
The militant group already controls many districts in the province. Now, its control of the city—and the Afghan pushback—is exacting a toll on Kunduz's civilians.
It's unclear how many people are dead or injured, but local medical officials say they are overwhelmed. The UN has condemned the fighting and urged "all parties to the conflict to uphold their obligations under international humanitarian and human rights law to protect civilians and to take all feasible steps to prevent the loss of life and injuries to civilians."