Top Obama Advisor: Syria Won't Be Stable Until Assad Goes
Russia needs to understand the importance of a political resolution to the civil war, Ben Rhodes says.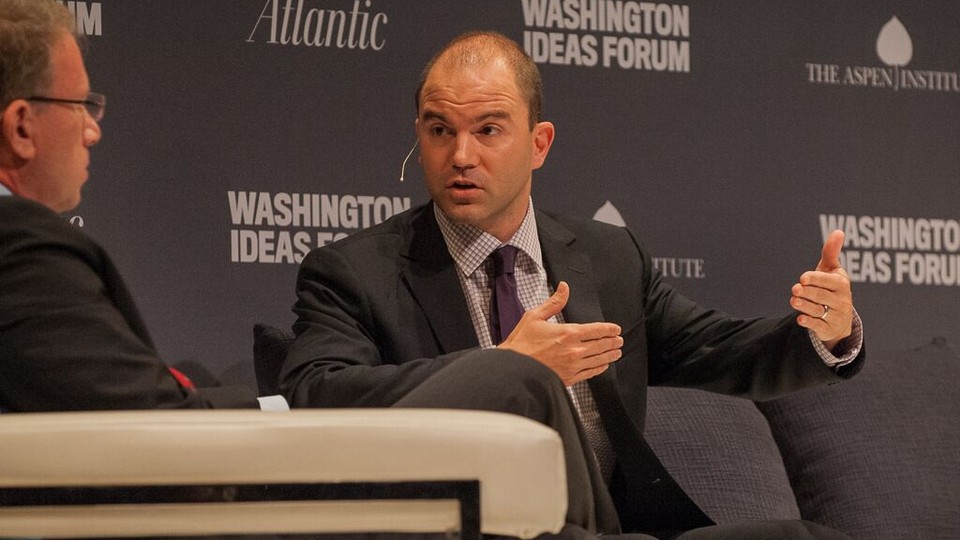 The world is large and the U.S. has numerous interests to protect. Such was the uncontroversial theme of comments by Deputy National Security Advisor Ben Rhodes at the Washington Ideas Forum on Wednesday. At the same time, as The Atlantic's Jeffrey Goldberg pointed out in conversation with him, recent events in the Middle East—notably an intelligence-sharing accord struck between Russia, Iran, Iraq, and Syria; and the morning's news that Russia had begun bombing targets in Syria—give the impression that America is on "the back foot" in world affairs.
Everybody focuses on the Middle East, Rhodes said. But America can't devote all its attention to "trying to fix fundamentally broken societies," and Asia is "going to matter a lot more to the American people in the 21st century." In the long term, America's position will rely on "rebuilding strength, the strength of our own foundation, our economy," and extricating itself from places like Iraq and Afghanistan—where the price of involvement is high, and there are limits to what the United States can achieve.
But what about the risks of non-involvement? "Has the president learned you can't get out?" Goldberg asked. "It's the Corleone rule—you can't leave no matter what you do."
Referring to the criticism of the Obama administration's decision to withdraw from Iraq altogether rather than leave a residual force of up to 10,000 troops in place there, Rhodes asked how 10,000 troops would have resolved the issues fueling the conflict raging there today. "It's just simplistic, this notion that if we have a certain number of troops somewhere," they can somehow bring stability to deeply divided societies. (Incidentally, the number of U.S. troops remaining in Afghanistan, where the Taliban this week took a provincial capital for the first time since the American invasion in 2001, currently stands at 9,800. Some of these troops have been dispatched to help Afghan forces retake the city.)
The question is where that leaves Syria—and whose troops will be there, as Putin steps up his involvement in support of President Bashar al-Assad. "The main determining factor for Russia is that parallel to counterterrorism efforts, that they understand that there has to be a political resolution to the conflict in Syria," Rhodes said. "Otherwise, the fighting's not going to stop. You cannot make the two-thirds of that country who are Sunni, who are never going to accept the legitimacy of Bashar al-Assad, whether they're ISIL or not, accept an outcome in which he's still the leader of the country." Assad is the one who started the conflict, Rhodes said; Assad is the one who started dropping barrel bombs on his people.
"How are you going to restore stability with the guy who has lost control of his country because his people have rejected him?" Rhodes asked. "ISIL has benefited from his actions. … There's no outcome that is truly stable if he's still in charge of the country."