When Reality TV Involves Vaccinating a Goat and Pulling Weeds
Female Food Heroes approximates real life in rural Tanzania.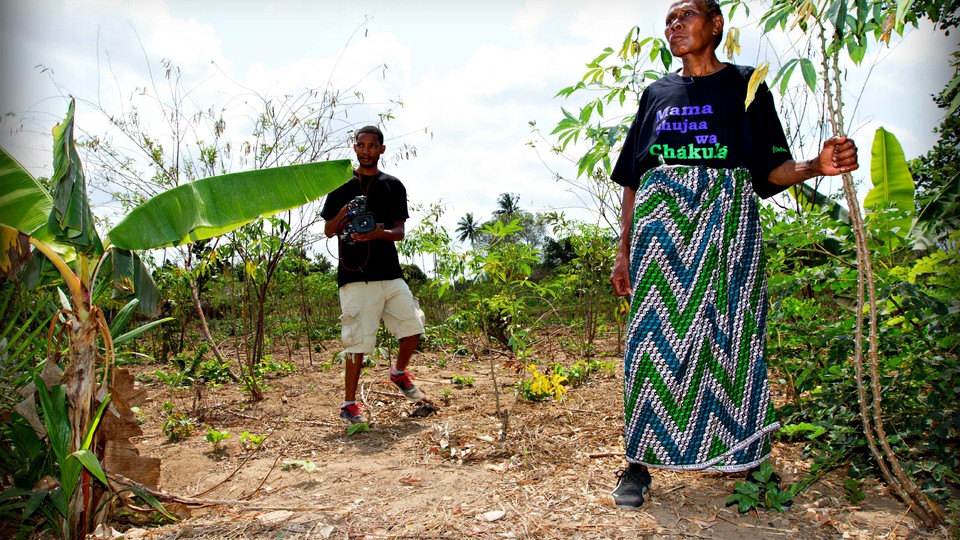 Reality-show contestants typically spend their time scrambling to win a man's heart or a record deal. On Female Food Heroes, which is known as Mama Shujaa Wa Chakula in Swahili, the official language of Tanzania, contestants might be found scrambling to vaccinate a goat.
The show, which debuted in 2011 and concluded its most recent season in late August, is produced by the humanitarian organization Oxfam America and this year aired in partnership with East Africa TV. Each season, Oxfam chooses 18 to 20 participants based on their answers to a widely distributed survey that asks, among other things, what each woman farms and whether she has control over her own income. During a 21-day period, the women compete to win 20 million Tanzanian shillings (about $9,400) as well as farming and fishing tools, pinning their hopes for success on viewer voting and a panel of judges.
The formula for Female Food Heroes is so mundane that it arguably approximates reality better than most reality shows do. On their own or in teams, the women (or washiriki, roughly "contestants" in Swahili) perform tasks that are already part of their daily lives: They weed, lay bricks, garden, build plows, plant trees, repair houses, and sell produce, though they occasionally break from routine by, say, staging a sack race or a fashion show on a makeshift runway. Politicians, local NGO staffers, and other guests also speak to the women on topics like leadership, women's rights, and gender violence.
All this results in scenes like the one below, in which contestants commiserate about a rural tradition dictating that a man may take a widow as his wife as early as the day of her husband's burial, while simultaneously discussing how to repair a local man's house. The latter conversation goes as follows (the translation was provided by Oxfam):
"We are looking for reeds. We will tie some, others will remain upright, and then we will put the clay."

"We need to plaster here and here."

"These are someone's trees. Let us go over there."

"We will not find enough reeds here. These are too small."

"Bring the machete."

"Whose water is this?"

"It's ours."
Reality television, indeed.
The show's ultimate aim is to highlight the potential of small-scale female farmers in a nation that affords few opportunities to them. In Tanzania, the agriculture sector employs 80 percent of the labor force; most of these workers are subsistence farmers who feed themselves with what they produce rather than, or in combination with, selling their crops on the market. While women make up at least half of this labor force, they own just 20 percent of land in Tanzania. Tanzania's 1999 Land Act states that women and men have equal rights to land, but women often cannot inherit land belonging to their husband or family under customary law in rural areas.
Without access to land, many women can't secure loans that rely on property as collateral, rendering them unable to buy resources like seeds, fertilizer, and tools that their male counterparts can purchase. Even when they do own land, female farmers are still at a disadvantage: Adjusting for differences in land size, household characteristics, farming inputs, and crop selection, plots managed by women in Tanzania produce 14 percent less per acre than plots managed by men, according to the World Bank. Addressing these issues is important for establishing gender equity, but it could also maximize output in the largest sector of the economy in Tanzania, a nation that ranked 159 out of 187 countries in the United Nations's 2014 Human Development Index and had a poverty rate of 28 percent in 2012.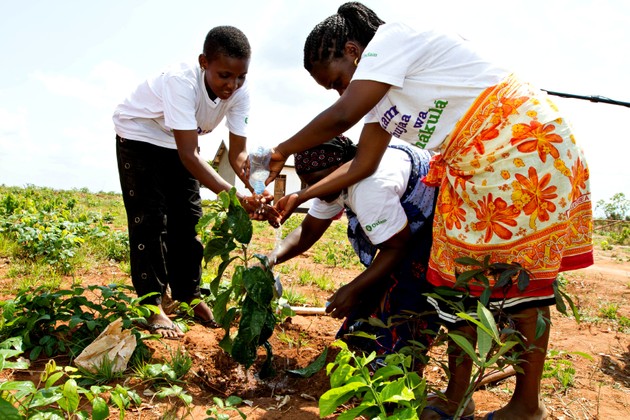 Asked about what concrete success the show has had so far in chipping away at these challenges, Eluka Kibona, who works for Oxfam in Tanzania and oversees Female Food Heroes, noted that shortly after the finale of the show's first season, the Tanzanian government reduced the size and duration of large-scale land leases, thereby increasing the availability of plots for small-scale farmers, though there's no guarantee that these plots will go to women. But a reality show can only do so much to undermine patriarchal traditions in rural communities, particularly when just 3 percent of rural Tanzanians have access to electricity, let alone a television.
"Gender equality takes more than policy action," said Kibona."It takes transformation at that level of [attitudes]. I think the show can contribute to that, and policy change can contribute to that, but [altering attitudes] will require more deliberate action toward that direction. I don't think it's the mandate of the show."
What the TV program can do, according to Kibona, is help restore respect for the farming profession in Tanzania, where it is "still a big deal to be on TV." When the country's young people enter the labor force—the country's median age is 17.4 years—they "don't see [farming] as a potential area for any engagement," Kibona told me. "Farming in Africa, in Tanzania, is farming without any machinery, so it's hands and the heat and the sun. The pay is very low. But at the same time, people depend on that same food to eat every day."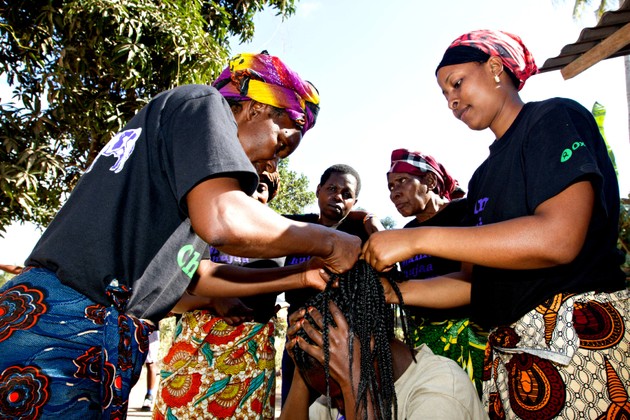 Female Food Heroes can empower contestants by "taking them outside of their comfort zones, outside of their context," Kibona added. And that can be transformative, "especially when you see how the women are received when they go back to their communities, how they're received by the local government, how they're received by their husbands and their loved ones."
While past seasons took place on a set designed to look like a Tanzanian village, the latest season situated the contestants in a real one: the village of Kisanga, an hour west of the coastal city of Dar es Salaam. "When you build a fake village, you have to dismantle everything," Kibona said. "If you do it in a real village, you leave an impact in that village. The show gets more mileage because maybe somebody knows that village and they can relate to that village."
What Kibona is referring to—"empowerment"—is exceedingly difficult to define and measure. In a recent paper on NGO work in northern Tanzania, Mara J. Goldman and Jani S. Little took a stab at articulating the meaning of the term: "A process where, with resources and through agency, choices are made by those normally not in a position to do so in a given situation." By this definition, Female Food Heroes isn't so much a vehicle for change. It's an incubator for what that change might eventually look like.