Syria, Europe, and the Boy on the Beach
An image of a small child evokes an unfathomably huge tragedy.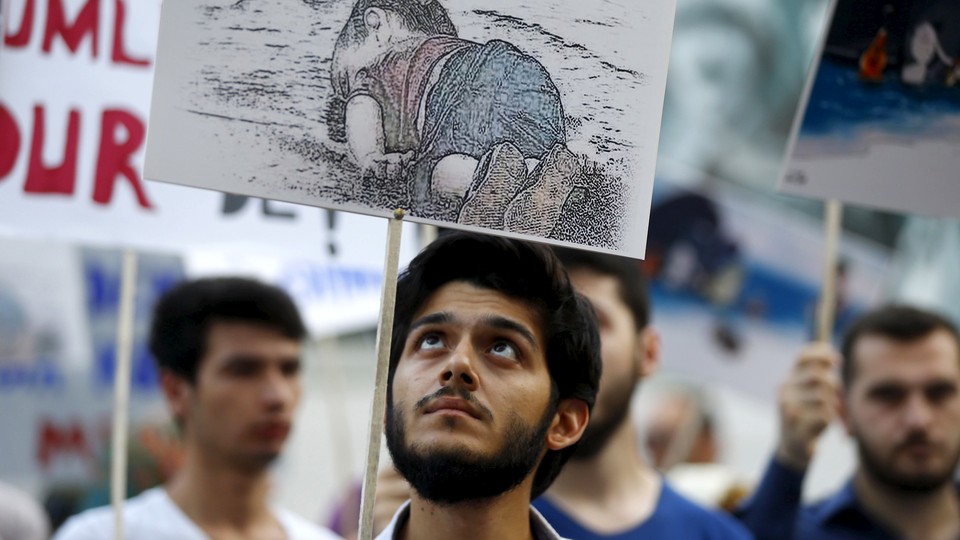 I had just dropped my son off at daycare when I opened Twitter and came across a photo that over the next 24 hours would become a totem of the refugee crisis in Europe and the Middle East, and the blight that is the Syrian civil war. The picture would quickly reappear, this time as an earnest social-media meme, at a meeting of dithering UN officials and a gathering of unfeeling Arab leaders: a small Syrian boy in a red shirt, blue shorts, and worn shoes, lying face down in wet sand, his head cocked to one side along a gray, glistening shoreline, his lifeless hands cupped upwards, his knees slightly bent.
My first reaction was despair. My second was: My son sleeps just like that.
The attention this photo has received has generated discomfort as well as indignation—for understandable reasons. There are important ethical questions surrounding the taking or sharing of photos of children, dead or alive, in the media, including questions about the intent of the sharers and the consent of the subject. The scale of the Syrian tragedy is orders of magnitude greater, and infinitely more variegated, than this one picture, or this one victim's story, can possibly convey. Over the last four and a half years, an estimated 240,000 people have died in the grinding violence, including nearly 12,000 children. More than half of Syria's pre-war population—half, the proportional equivalent of nearly 170 million Americans—have been forced to flee their homes, spawning the largest exodus of refugees in a generation. Seven hundred and fifty thousand Syrian children won't be going back to school this fall.
As BuzzFeed's Borzou Daragahi tweeted on Thursday: "Syria war has produced images of dead kids for years. Why do those who die fleeing get more attention than those by [Syrian President] Bashar [al-Assad]'s barrel bombs?"
And yet there is every reason to be outraged about the fate that befell the Syrian boy on the beach. His name was Aylan, and he was three years old, meaning he knew only war and its haunting reverberations. He drowned off the coast of Turkey after his capsized boat failed to make it to Greece, alongside his mother and his brother, who was five, or roughly as old as the Syrian civil war. A Syrian Kurd, he died after years of displacement in Syria and Turkey. According to the Ottawa Citizen, Aylan's  family had applied as refugees for asylum in Canada but had been rejected. "The family had two strikes against them—like thousands of other Syrian Kurdish refugees in Turkey, the UN would not register them as refugees, and the Turkish government would not grant them exit visas," the paper reported. Only Aylan's father survived the fleeting voyage. "I just want to see my children for the last time and stay forever with them," he declared on Thursday, as he recalled how he'd taken over steering the boat through high waves after the captain abandoned the passengers, only for his family to plunge into the sea.
The scale and scope of the suffering in Syria is precisely why singular stories or images, particularly those that move people to identify with a crisis that is otherwise remote, can be so potent—even if the alchemy that makes them so seems arbitrary or unfair.
In an article for The Atlantic on why the media covers some deaths in the world more than others, Jacoba Urist noted the phenomenon psychologists call "collapse of compassion"—"interview subjects," she wrote, "report feeling less empathy for the suffering of groups than that of individuals, so that, perversely, sympathy may diminish as death tolls rise." On the other hand, she wrote, "children can help bridge the psychological space between readers and subjects separated by physical or cultural distance, though race, class, and other social factors may buffer these effects."
Of the criticisms I've seen of the widespread sharing of photos of Aylan, this one struck me most:
Hard to be online anymore. Respect the dead. Find out their name, origin, struggle, story anything but please respect the sacred bodies

— Dima S. ديمة (@YasminWaQahwa) September 2, 2015
This is the mission of the moment. Sharing an image such as this should not be an end in itself; it should be the start of an investigation into the story behind it. What led Aylan's family to climb into a 15-foot boat and push off perilously for Greece? Why did they not acquire refugee status from the UN, exit visas from Turkey, and asylum in Canada? How could the situation they found themselves in, and that thousands of other migrants and refugees now find themselves in, have been avoided?
In a post on Thursday, Kemal Kirisci, an expert on Turkey at the Brookings Institution, addressed some of these questions:
In spite of numerous appeals by Antonio Guterres, the United Nations high commissioner for refugees, to the EU and the United States to make resettlement available, as of August 2015 there were only about 100,000 spots available, which is less than 3 percent of the overall number of Syrian refugees. The EU and the United States have resettled fewer than 9,000 Syrians since 2011, a truly miniscule [sic] number compared to the burden carried by Syria's neighbors.

As for funding for humanitarian assistance, the burden-sharing picture has not been much better. The U.N. has struggled to find funding to assist countries hosting refugees and to provide humanitarian assistance into Syria. Only half of that assistance budget for 2014 was met, while in August the Regional Refugee and Resilience Plan (3RP) for 2015 and 2016 remained almost two-thirds underfunded.

In a situation of such protracted displacement, Syrian refugees are increasingly recognizing that hospitality for them in Lebanon, Jordan, and Turkey has maxed out and "la barque est pleine." The international community is failing to address the humanitarian crisis—let alone the political one—in Syria; Guterres's appeals have pretty much gone unanswered. This depressing picture is compelling Syrian refugees to take the ultimate risk of trusting their self-resettlement to the hands of human smugglers, rather than the EU, the United States, and international agencies.
Kirisci told me that while there are 1.9 million registered Syrian refugees in Turkey, there are perhaps something like 250,000 unregistered refugees in the country. They are unregistered for a variety of reasons; some live outside government-run refugee camps (as do most of the registered refugees), while others fear that registering will prevent them from moving beyond Turkey to the European Union. If they're not registered, it's difficult for these refugees to leave Turkey legally or be resettled elsewhere through official channels.
The European Union has not yet developed a "credible resettlement program that Syrian refugees would have heard, or picked up through the grapevine," he said. "And had there been such a program I think refugees would have thought twice, three times, before presenting themselves to the unscrupulous human smugglers."
"As the [Syrian] conflict enters its fifth year, and with absolutely no prospects of a diplomatic solution, no effort on the part of anybody really to find a solution to the crisis in Syria, I think these people began to get very frustrated and concerned and panicky, and off they went," he continued. "And off they went with a snowball effect, and the European Union has been caught unprepared."
On Wednesday, despite widespread awareness of the numerical scale of the problem Kirisci described to me, many were caught unprepared for what it could look like: somebody's son, lying face down on a beach, with his head to one side. The distribution of the photo raises a host of complicated questions, but its underlying resonance is simple: All our sons sleep just like that. And they deserve to sleep safely.