Can Hosting the Olympics Ever Be Sexy Again?
The list of host cities for the 2024 Olympic Games was announced Wednesday.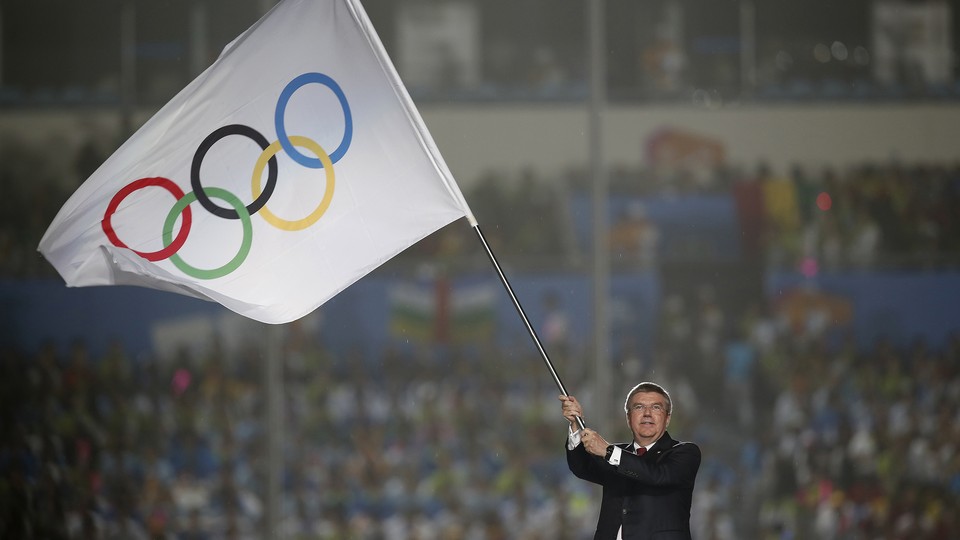 If International Olympic Committee President Thomas Bach seemed ecstatic in announcing the cities that have applied to host the 2024 Olympics, it's probably because he was.
"The IOC welcomes five outstanding cities to this strong competition," he said on Wednesday, naming Los Angeles, Hamburg, Paris, Rome, and Budapest as the potential cities for the Summer Games.
Less than a year ago, the field for the 2022 Winter Games had winnowed to two cities: Beijing, China, which has no mountains, and Almaty, Kazakhstan, which has no cash. What both countries do have are less-than-stellar human-rights records. Beijing ultimately won the vote and will become the first city to host both the Summer and Winter Games. The big question, which we asked last year, is whether democracies would continue to pursue the Olympics.
Hosting the Games has come to mean bloated costs, negligible long-term benefits, and required public money. In the run-up to the 2022 selection, four cities from democratic countries all dropped their bids, citing either financial uncertainties or a lack of public support. Ahead of the 2024 deadline, Boston and Toronto also dropped out for similar reasons.
Could the IOC make it a better deal for a city? The answer, for now, seems to be yes. Ahead of this week's deadline, the IOC passed a slate of reforms known as "The Olympic Agenda 2020," which set about to mitigate the risks involved in preparing an Olympic bid.  As NBC reported:
In bidding, the IOC accepted reduced costs for bid cities, assisting cities considering bids before the bid process starts and allowing bids from multiple cities or countries (which is already allowed in the Winter Games) in exceptional cases.
There are no shortlists this time—any city bidding for the Olympics will automatically make it to the final round, and then the winner will be announced.
The reforms will also affect the Games itself. The IOC plans to promote mixed-gender events, may allow host cities to select specific sports for the Games, and promote the use of existing structures to reduce construction costs.
It will be interesting to see if the five remaining cities make it all the way through until the vote is held in Lima, Peru, in September 2017. Hamburg, for example, still has to pass a referendum in November that would allow the city to stay in the running.