Should Israel Be Declaring War on Rock-Throwing?
Renewed tensions and violence between Israelis and Palestinians in Jerusalem have put stone-throwing at the center of a security debate.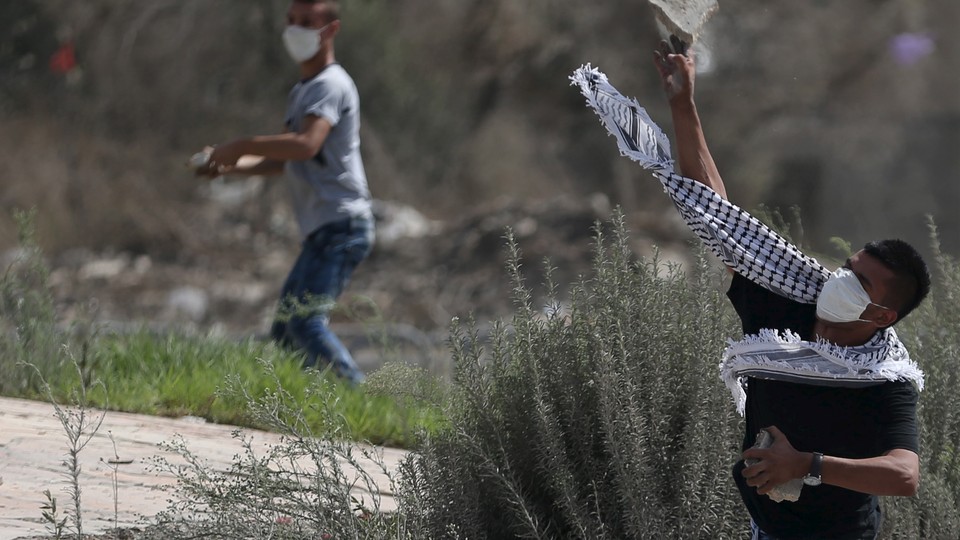 One perpetual challenge of writing and reading about the Israeli-Palestinian conflict is that the amount of context needed almost never fits the space available.
Let this sentence serve as an example: Earlier this week, a 64-year-old Israeli motorist was killed when he lost control of his car after it was struck by rocks thrown by Palestinians on a road in East Jerusalem.
And let this too-slim headline serve as an another example:
Here comes another one: The death of the man came amid days of intense and increasingly routine clashes at the Temple Mount—the most-widely used term for the Jerusalem site—which is sacred to both Jews and Muslims. (For more on those tensions, here's an explainer from last year.)
Following the attack, Israeli Prime Minister Benjamin Netanyahu held a meeting with security and defense officials, along with the mayor of Jerusalem, and announced he was "declaring war" on rock throwers.
"New measures debated at the meeting included changing the protocol for open-fire orders on rock throwers, establishing a minimum sentence for rock throwers, and levying a heavy fine on minors throwing rocks and their families," the JTA reported.
Like the story of the motorist and the conditions of the renascent clashes in Jerusalem, the question of whether a war could or should be declared on rock-throwing is one that contains plenty of layers and requires much background.
The canon on the act of stone-throwing in the Middle East goes back at least as far as the Bible, where David bested Goliath with a slingshot-propelled stone. Throughout the history of the Israeli-Palestinian conflict, both sides have sought to portray themselves as the David; Israel, a small country surrounded by several hostile Arabs countries that have repeatedly sought its elimination, and Palestinians, overmatched while resisting and confronting well-armed Israeli soldiers.
The quest for symbolism doesn't end there. Writing of the children who throw stones at Israeli soldiers in the Palestinian village of Beit Ommar, Jodi Rudoren described the perception of rock-throwing as a"rite of passage and an honored act of defiance." She added, "The futility of stones bouncing off armored vehicles matters little: Confrontation is what counts."
While this week's episode in East Jerusalem shows that stone-throwing can be fatal for the target, so can it be for the attacker. Back in July, The Washington Post noted a case in which an Israeli commander shot and killed a 17-year-old Palestinian, who was part of a group throwing rocks at an army vehicle. The commander claimed he acted in self-defense and feared for his life while Palestinian witnesses and Israeli human-rights activists argued that the teenager posed "no lethal threat."
With an increase of protests in Jerusalem in mind and a Hamas-declared "Day of Rage" set for Friday, rocks seem a likely part of the forecast. Given their frequent presence, will declaring a war on rock-throwers make things better or worse?