Russia's Expanded Role in the Syrian Conflict
Russia says its warplanes struck ISIS targets, but Western-backed rebels fighting the Assad regime say they were targeted.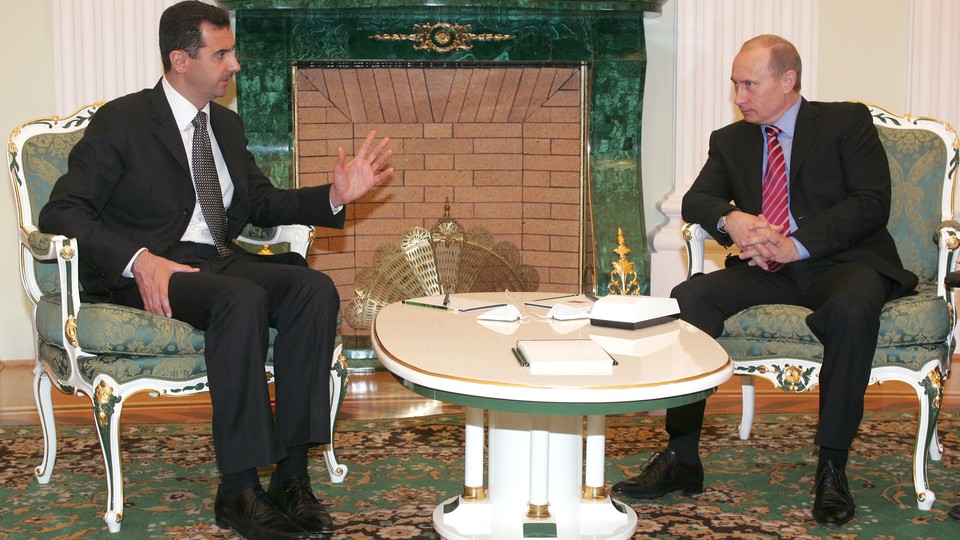 Updated on September 30 at 2:33 p.m. ET
Russia says its warplanes struck Islamic State positions in Syria, though a video released by the country's Defense Ministry purportedly showing targets being hit was geolocated to a town miles away where other groups are battling President Bashar al-Assad.
The Free Syrian Army, the anti-Assad rebel group that is backed by the West, said it was the target of the Russian strike, adding one its leaders was killed in the airstrike. In Washington, Defense Secretary Ash Carter said, "It does appear that they were in areas where there were probably not ISIL forces," adding Russia's operation was "doomed to failure."
The Russian strikes came hours after President Vladimir Putin received permission from the upper house of Parliament to use military force overseas.
"In accordance with the decision by Supreme Commander of Russian Armed Forces Vladimir Putin, aircraft from the Russian Aerospace Force began today an operation which involves precision airstrikes on Islamic State land-based targets in Syria," Major General Igor Konashenkov, a Defense Ministry spokesman, said.
John Kirby, a State Department spokesman, said the U.S. Embassy in Baghdad had been given an hour's notice of the airstrikes. He said a Russian official there "requested that U.S. aircraft avoid Syrian airspace during these missions."
Kirby added: "The U.S.-led coalition will continue to fly missions over Iraq and Syria as planned and in support of our international mission to degrade and destroy" the Islamic State.
U.S. officials and others also said at least some of the strikes appeared to be against anti-Assad groups allied with the West.  Speaking at the UN on Wednesday, Secretary of State John Kerry said the U.S. would have "grave concerns" if Russia targeted other groups.
Putin's request to the Federation Council—and the body's unanimous vote--followed a formal request from Assad for Russian help. Sergei Ivanov, the Kremlin's chief of staff, said the approval was purely in the "national interests of the Russian Federation." He added the action would not be open-ended.
"The operations of the Russian air force cannot of course go on indefinitely and will be subject to clearly prescribed time frames," he said, but did not specify what those time frames were.
Russia's operation in Syria would mark its first military action outside Europe since its battered troops left Afghanistan in the late 1980s.  But Ivanov reiterated Putin's remarks that the use of Russian ground troops had been ruled out, adding the aim of the mission was to help Assad against the Islamic State.
The approval of airstrikes and their use against targets outside the city of Hama on Wednesday are likely to raise tensions with the United States. The U.S. and a coalition of countries is also carrying out limited airstrikes in Syria against the Islamic State, but they also say a future Syria must not have Assad at its helm because of his brutal actions against his own people. Those actions, they say, have led to the five-year-long civil war that has killed hundreds of thousands and created a massive refugee crisis.
Russia, however, is a staunch ally of the Syrian leader—a relationship forged during the Soviet era when Assad's father, Hafez al-Assad, ruled the country. Russia's sole Mediterranean naval base for its Black Sea fleet is located in Tartus, the Syrian port.
Russia maintains the U.S. and allied operations in Syria are not only ineffective, but also illegal because those airstrikes do not have UN approval. Its actions, however, are legitimate, Moscow says, because they were prompted by a formal request from Syria's government. But as my colleague Marina Koren has reported, Russia, a permanent, veto-wielding member of the UN Security Council, has blocked any attempt to bring the Syrian issue up at the world body.
The Federation Council's vote came just days after Putin and President Obama first traded barbs and then met at the UN. There, Putin called for a broad coalition against the Islamic State; Obama said he was willing to work with anyone, "but we must recognize that there cannot be, after so much bloodshed, so much carnage, a return to the prewar status quo."
Over the past month, Russia has sent both military personnel and tanks into Syria to aid Assad. Last weekend, Moscow announced an intelligence-sharing agreement with Syria, Iran, and Iraq in their fight against Islamic State. The U.S. has watched the moves warily because the recent buildup of Russian troops elsewhere—and Federation Council approval—has usually presaged an invasion, as in Crimea last year.