Reviewing Safety at the Hajj
The Saudi king has ordered officials to "raise the level of organization" after a stampede killed more than 700 Muslim pilgrims.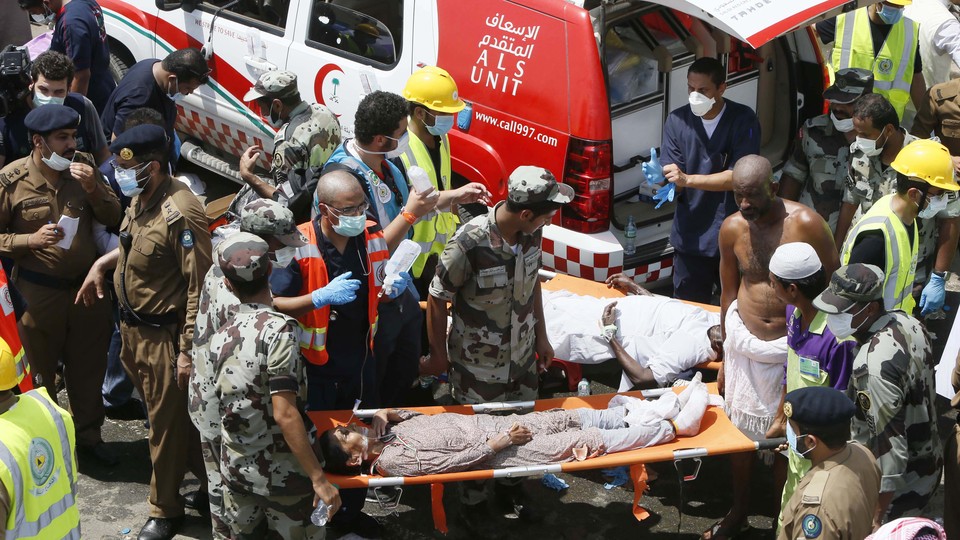 Saudi King Salman has ordered a safety review at the Hajj, a day after a stampede near Mecca killed more than 700 people and injured more than 800.
The kingdom has been criticized for the worst death toll at the Hajj since 1990, and much of the criticism is coming from Shiite Iran, Saudi Arabia's regional rival.
Iran lost 131 people at the stampede, the highest yet of any country. Its supreme leader, Ayatollah Ali Khamenei, was scathing in his criticism of Saudi Arabia, which is the custodian of Islam's two holiest mosques, in Mecca and Medina.
"The Saudi government is obliged to accept its heavy responsibility in this bitter incident and meet its obligations in compliance with the rule of righteousness and fairness; mismanagement and improper measures that were behind this tragedy should not be undermined," Khamenei said.
The Saudi king announced Friday that the safety review would be headed by Crown Prince Mohammed bin Nayef. Here's Salman, as quoted by the BBC:
We have instructed concerned authorities to review the operations plan and to raise the level of organisation and management to ensure that the guests of God perform their rituals in comfort and ease.
More than 2 million people are performing the Hajj this year. The pilgrimage is one of Islam's five pillars. As recently as Monday, The Economist had noted how the "Haj is safer than ever." And there's a reason for this. Here's more:
The Saudis take their "custodianship" of holy places very seriously. They have spent billions not only on infrastructure such as pedestrian bridges and tunnels and fireproof tent cities, but on management advice and logistics systems to handle the massive influx. Strict country quotas limit the numbers of pilgrims, who must provide proof of vaccination for a host of communicable diseases. MERS, a respiratory virus with a frightening 46% death rate among those infected that first appeared in Saudi Arabia in 2012, is in fact not easily communicable. Health authorities in both Britain and the US have given their blessing for this year's haj. As for security, the Saudis say they have deployed some 100,000 police, as well as thousands of TV cameras relaying live images to a giant control room. For good measure they have quietly but sharply restricted the number of pilgrims from Yemen this year.
As we reported Thursday, the stampede occurred in Mina, near the Jamarat Bridge where pilgrims "stone the devil." The Saudi health minister, Khaled al-Falih, said pilgrims had failed to follow directions, and other officials were quoted as blaming "pilgrims with African nationalities" for the stampede—though it's unclear how many people from Africa were among the dead.
Here is a list of known fatalities so far: Iran, 131; Morocco, 87; India, 14; Egypt, 8; Pakistan, 7; Turkey, 4; Algeria, 3; Indonesia, 3; and Netherlands, 1. People from Niger and Chad are also believed to have died, but it's unclear what those numbers are or if there are fatalities from other countries.
The deaths come two weeks after a crane collapse at Mecca's Grand Mosque killed 109 people and injured about 400 others.
Fatalities at the Hajj are relatively common. Here's a breakdown of recent deaths at the Hajj, via the BBC:
2006: 364 pilgrims die in a crush during the stone-throwing ritual

1997: 343 pilgrims killed and 1,500 injured in fire

1994: 270 killed in stampede

1990: 1,426 pilgrims killed in stampede inside tunnel leading to holy sites

1987: 400 people die as Saudi authorities confront pro-Iranian demonstration