Putin's Syria Gambit
The Russian president on Monday criticized the United States's response to the Islamic State.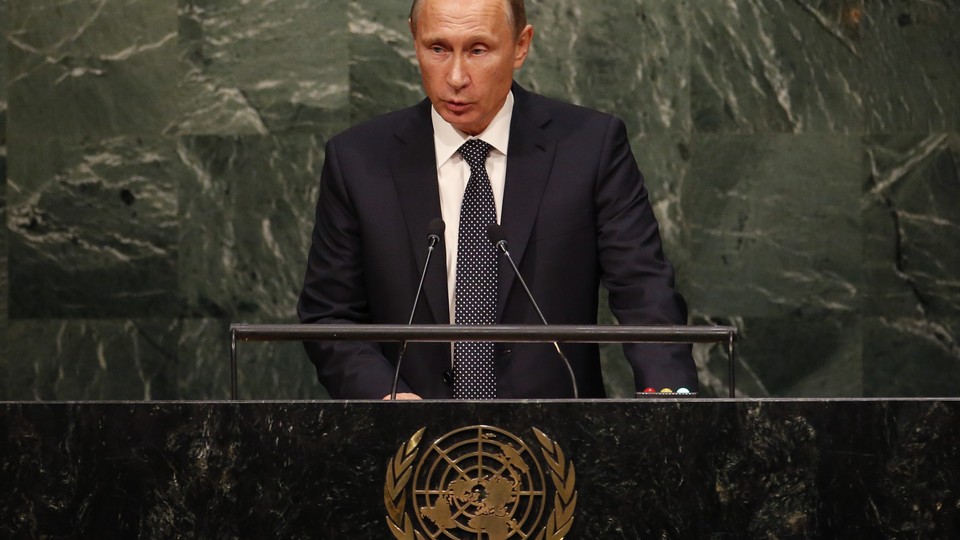 The last time Vladimir Putin addressed the UN General Assembly, there was no Islamic State, the Syrian civil war was years away, and Crimea was Ukrainian.
Back then, in 2005, the Russian president spoke for five minutes. On Monday, he went on for about 20, starting with a defense of Russia's role on the UN's Security Council disguised as a history lesson.
"When the UN was established, its founders did not in the least think that there would always be unanimity," Putin said, adding that disagreement among council member states is "absolutely natural."
Last spring, Russia ignored one UN resolution that deemed its annexation of Crimea illegal, and blocked another that called for the Syrian conflict to be considered by the International Criminal Court, which prosecutes war crimes. It was the fourth time Russia had stymied a resolution involving the Syrian government run by Bashar al-Assad, a longtime ally of Moscow that Washington wants removed from power. These actions have, unsurprisingly, exasperated at least some of Russia's fellow council members, especially the U.S., but Putin remains unfazed.
But the deteriorating security situation in Syria has forced both countries to see a common threat: the Islamic State. On that issue, too, there has been disagreement, but also hints of reconciliation.
It began earlier this month, when Russia quietly sent military personnel and tanks into Syria. U.S. officials were alarmed by the sudden movement. Shortly after, Washington agreed to begin military-to-military talks on the Islamic State, and Obama and Putin agreed to meet on the sidelines of the General Assembly—though accounts differ on who made the first move.
Then, this weekend, Russia announced an intelligence-sharing agreement with Syria, Iran, and Iraq in their fight against Islamic State, a move The New York Times says caught U.S. officials completely off guard. "It was another sign," Michael Gordon wrote, that Russia "was moving ahead with a sharply different tack from that of the Obama administration in battling the Islamic State … by assembling a rival coalition that includes Iran and the Syrian government."
In Monday's speech, Putin positioned himself, as
Observer
's John Schindler
described
, as the "new sheriff in town." When it comes to the Islamic State, the Russian president said, the U.S. isn't doing it right.
"We think it is an enormous mistake to refuse to cooperate with the Syrian government and its armed forces, who are valiantly fighting terrorism face-to-face," Putin said. "We should finally acknowledge that no one but President Assad's armed forces and Kurd militia are truly fighting the Islamic State and other terrorist organizations in Syria."
He suggested a "broad international coalition against terrorism" that would be similar to the World War II-era coalition that united the Soviet Union, the U.S., Britain, France, and China against Hitler's Germany despite their various disagreements. He said Russia, as the current president of the Security Council, will soon convene a ministerial meeting on extremist threats in the Middle East.
Putin followed President Obama, who spoke twice as long. Both leaders said they are willing to work together to resolve the conflict in Syria. But their speeches were also chock-full of digs at each other. Obama, visibly frustrated, asked the room to "imagine if instead Russia had engaged in true diplomacy" in Ukraine. Putin, visibly snarky, derided the "single center of domination" that believes "if we are so strong and exceptional then we know better than anyone what to do."
Obama and Putin will meet face-to-face for the first time in nearly a year this afternoon to discuss the conflicts in Ukraine and Syria. But after these speeches, it almost doesn't seem necessary.