To All Nuns and Sisters: Pope Francis Says Thank You
In an unscripted homily in Havana, the pontiff gave some credit to Catholic women religious.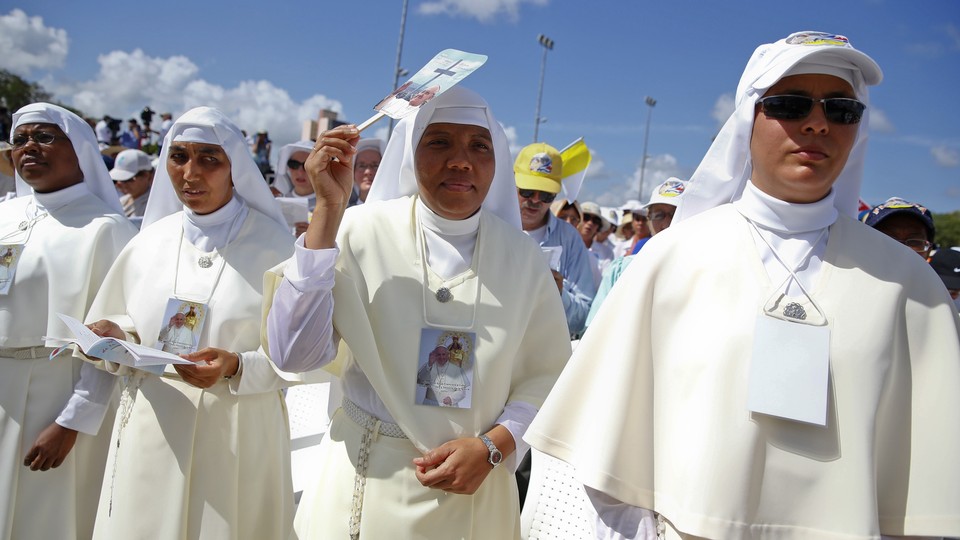 As the pope makes his way toward the United States, it will be interesting to hear how he talks about the role of women in the Church—and in particular, nuns and women religious. Over the past several years, the Vatican has had a tense relationship with North American nuns and women religious: One of their major organizing bodies got chided by the Church for allegedly flouting Catholic teachings.*
Even though it's unlikely, basically to the point of impossible, that Pope Francis will take up the question of whether women should be allowed to be priests and take other leadership roles, he has made a point of praising the good that women do in the Church. On Sunday, in an unscripted homily, he openly praised the way consecrated women serve the Church—after a bit of saltiness.
"God free us from crybaby nuns who are alway lamenting," he said. "This phrase isn't mine. St. Theresa said this to her nuns. It's a phrase of hers. Woe to that nun who goes about all day lamenting because I suffered an injustice."
This was mostly a message to young people who might be just starting out—he encouraged the women to get down with "the least ones," as Jesus would say. "How wonderful it is for God, and how much good it does to a person, for example the smile of someone with muscle spasms who doesn't know how to do it," he said. "Or when they want to kiss you and they slobber on your face. This is the tenderness of God."
Above all, though, he thanked them: the women who sit with the sick, hang out with the poor, and care for the "these least ones."
"You can't start a business, you can't make money, absolutely nothing constructive is brought forward, so to speak, with these brothers and sisters of ours, with these least ones, with the smallest," he said. "Thank you and thank you to all men and women consecrated who do this."
* A few notes on terminology here. Not all women who have taken vows within the Church are nuns; the broadest term for these people is women religious. One way of thinking about this distinction is whether a woman lives a contemplative life inside a cloistered community (that'd be a nun), or an apostolic life doing service out in the word (women religious, referred to as "sisters"). All of the above are women who are part of consecrated life, meaning they've taken vows of poverty, chastity, and obedience.