Pope Francis Hangs Out With Fidel Castro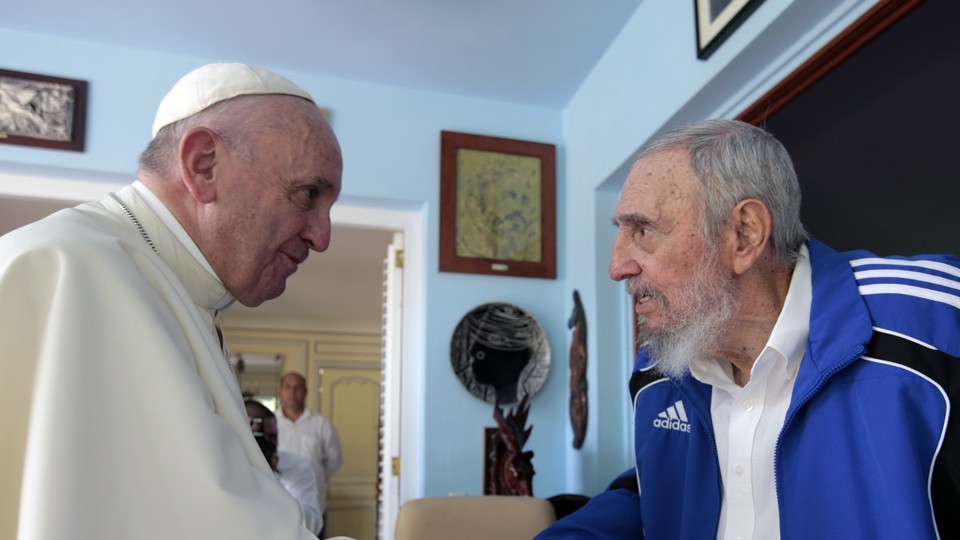 Editor's Note:
This article previously appeared in a different format as part of The Atlantic's Notes section, retired in 2021.
When the bishop of Rome hangs out with one of the world's most famous Communist revolutionaries, what do the two chat about?
According to Vatican spokesman Frederico Lombardi: "protection of the environment and the great problems faced by today's world." On Sunday, Francis and Fidel met for roughly half an hour after the pope celebrated mass in Havana's Plaza de la Revolución. The meeting wasn't on the pope's formal schedule for his trip in Cuba, but it's not a total surprise that it happened, according to The Guardian's Stephanie Kirchgaessner.
The two did a book swap, including a bonus CD for Castro. (Perhaps the men of 78 and 89, respectively, haven't quite embraced mp3s.) The former Cuban president gave the pope a book by a Brazilian priest called Fidel and Religion. Francis returned the favor with several books by the priest Don Alessandro Pronzato and copies of his encyclical on climate change and apostolic exhortation on the gospel—for what it's worth, that's Francis's much celebrated smack-down on greed and capitalism. In his gift, the pope also included writings and recordings of homilies by one of Castro's childhood priests. Here's Austen Ivereigh, the author of a biography on Francis, on that gift choice:
In other words, the gift to Fidel of Fr Llorente's book and CD may have been to help El Jefe to come to terms with his past.

— Austen Ivereigh (@austeni) September 20, 2015
It's the kind of thing a priest does for a dying man.

— Austen Ivereigh (@austeni) September 20, 2015