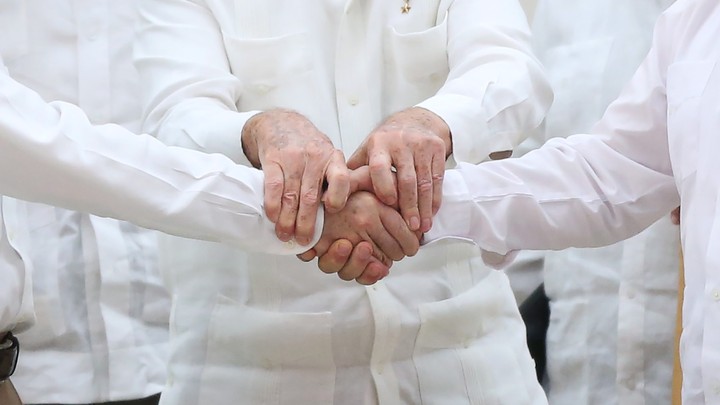 Pope Francis's highly symbolic swing through the United States and Cuba has yielded at least one tangible result: Colombian President Juan Manuel Santos and FARC guerrilla leader Rodrigo Londono have announced a deal to sign a definitive peace agreement within six months.
The two parties agreed to the interim deal in Havana on Wednesday, just days after the pontiff's visit during which Pope Francis made a special plea for peace in Colombia during a Sunday mass.
"We do not have the right to allow ourselves yet another failure," he said.
As my colleague Emma Green noted:
This isn't a random choice—since at least June, the pope has been publicly pushing for a peace agreement in the country.

He met with President Juan Manuel Santos at the Vatican and dangled the possibility of a papal visit if the government could come to an agreement with the country's rebel group, the Revolutionary Armed Forces of Colombia, or FARC.
The 51-year battle by the far-left FARC against the Colombian government is thought to be the longest ongoing insurgency in Latin America. Hundreds of thousands of people have died in the violence. While "peace" is the day's watchword, the theme of justice was notable, too.
"We have agreed to create a special jurisdiction for peace that is going to guarantee that the crimes committed during the conflict, especially the most serious ones, will not remain unpunished," Santos said.
"Peace is now ever closer," U.S. Secretary of State John Kerry wrote in a statement. "I have called President Santos to congratulate him and his negotiating team for their courage and commitment to the peace talks under extraordinarily difficult conditions."
He added: "I also must express my deep appreciation to Pope Francis for his moral leadership and the Vatican's good offices in the quest for peace in Colombia."
We want to hear what you think about this article. Submit a letter to the editor or write to letters@theatlantic.com.
Adam Chandler
is a former staff writer at
The Atlantic
. He is the author of
Drive-Thru Dreams: A Journey Through the Heart of America's Fast-Food Kingdom
.