Pope Francis Assembles a Squad to Fight Religious Extremism
The pontiff joined with leaders from around the world to commemorate 9/11—and made a striking show of the Church's pluralism.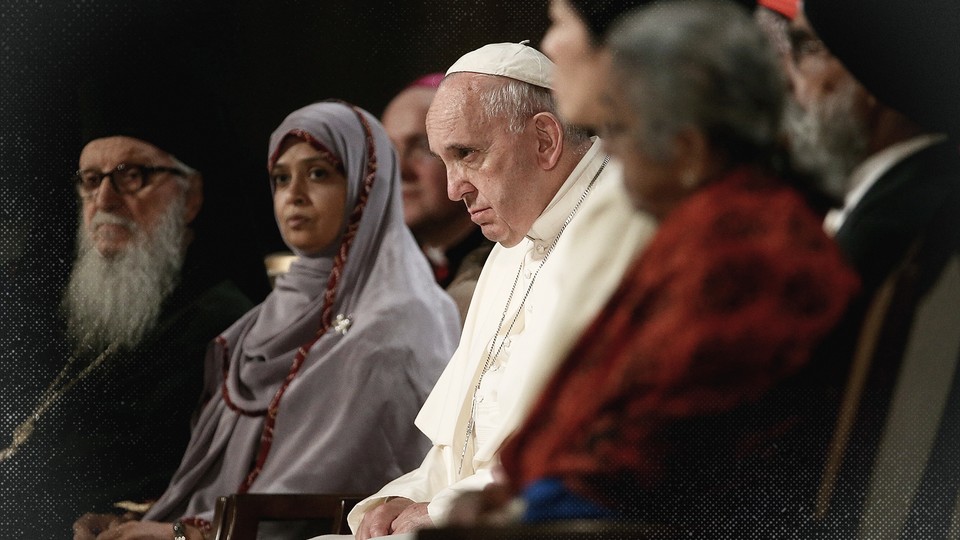 Two days after Yom Kippur, Pope Francis stood behind a Jewish cantor and listened to him pray. At least one priest chanted along as Azi Schwartz sang oseh shalom at the 9/11 memorial in New York City: "May the One who causes peace to reign in the high heavens let peace descend on us and on all Israel, and let us say, amen."
This was striking moment, and not because the singing sounded like a Gregorian chant, as one Catholic News Agency commentator clumsily observed several times. Though the pope's visit clearly served as the impetus for the gathering, he wasn't really the star; he listened solemnly as roughly a dozen Sikh, Buddhist, Hindu, Muslim, Jewish, and Christian leaders offered prayers and reflections in commemoration of the September 11 attacks. At all other times during his trip to the United States, Francis has been front and center. It was at this moment, when he was flanked by peers who hold different beliefs, that Francis chose to fade into the background a bit.
Loss was a clear theme for the service, but there seemed to be a deeper argument behind the gathering. "Here, the grief is palpable," Francis said. "It is the silent cry of those who were victims of a mindset which knows only violence, hatred, and revenge, a mindset which can only cause pain, suffering, destruction, and tears." This was a memorial gathering, but it was also a protest against religious extremism. And it was all the more fascinating because of its pluralism: religious leaders who are deeply committed to their version of metaphysical truth, but who have found a common enemy in extremism.
Opposition to "fundamentalism" and "ideology" has been a consistent Francis theme, both during his trip to the United States and before. "No religion is immune from forms of individual delusion or ideological extremism," he said during his speech to the U.S. Congress on Thursday. "Nationalistic or falsely universalist ideologies … [are] capable of perpetrating tremendous atrocities," he said during his speech to the United Nations on Friday. This is directed inwardly as much as outwardly; Francis has warned Christians against being "rigid" in their beliefs. But it's also clearly a sentiment specific to our time, when religion is sometimes associated with beheadings and terrorist attacks and extreme violence.
This kind of pluralism is relatively new to the Roman Catholic Church. Its first major venture into inter-religious dialogue was only 50 years ago, at the Second Vatican Council. As Rabbi Elliot Cosgrove noted at the 9/11 ceremony, the 1965 document Nostra Aetate marked the first time the Church had ever really made a statement on its relationship with other religions, and specifically Islam and Judaism. By no means have Catholic leaders been perfect partners in inter-religious dialogue in the decades following this document, but the contemporary Church is strikingly different from the Church past. The history is almost too infamous to have to recount: the Crusades, the Inquisition, Christian anti-Semitism during the Holocaust.
As pleasant as inter-religious cooperation can seem, it's partly made necessary by extremism.
Francis has apologized for some of these offenses. For example: In Bolivia this summer, he spoke about the violence of Christian missionaries in Latin America. "Many grave sins were committed against the native peoples of America in the name of God," he said. "I humbly ask forgiveness, not only for the offenses of the Church herself, but also for crimes committed against the native peoples during the so-called conquest of America."
Francis is reaching out in other ways, too. At least twice during this trip, he offered an atheist- and agnostic-friendly version of his touchstone phrase, "pray for me." Addressing a crowd of UN staffers on Friday, he said, "If any of you are not believers, I ask you to wish me well." The pope is here to preach the gospel, but he's made it clear that he's here for all people, not just Catholics.
Even so, this memorial service was a reminder that, as lovely and pleasant as inter-religious cooperation can seem, it's partly made necessary because of what some other forms of religion have become: violent, ruthlessly exploitative, and committed to cultural domination. The Church was once part of that latter group. Friday's service shows just how hard it is trying to be part of the former.