Pope Francis's Advice to Existentially Sad Millennials
The pontiff went off-script with some grandfatherly wisdom in Cuba.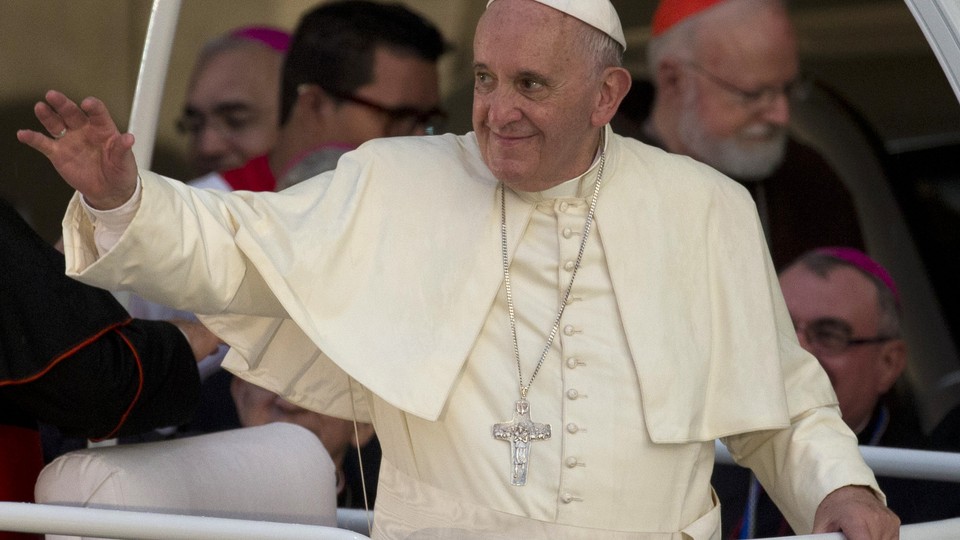 Veterans of the pope beat often talk about how to cover Francis, and there's one piece of advice they always give: When this pope looks up from his prepared comments and says something along the lines of, "I'm going to speak from the heart," that's when you know things are about to get spicy.
On Sunday, Francis was in full improvisational form. In the evening, during vespers with a group of seminarians, priests, and men and women religious, he free-styled for about 20 minutes about the meaning of mercy and unity. Afterwards, as he was meeting with a crowd of young people in Havana, he went off-script again.
"You are standing up and I am sitting. How unmannerly," he said after getting introduced by a teenaged-looking boy (thus achieving the dream of every 78-year-old public speaker addressing  a plaza full of young people—he got a laugh). "But you know why I sit down? It's because I took some notes."
What proceeded was a litany of advice that you'd only get from the most badass grandfatherly figure. For example (all quotes below are drawn from the Vatican's official English translation):
To those who have given up on their dreams: "In Argentina, we say, 'Don't be wimpy.'"
To the cynics: "If I find a young person without hope, I've said this before, 'a young retired person.' There are young people who seem to have retired at 22 years old." Another laugh moment. "They are young people with existential sadness, they are young people who have committed their lives to a basic defeatism."
To the religiously persnickety: "When a religion becomes a 'little convent' it loses the best that it has, it loses its reality of adoring God, of believing in God. It's a little convent of words, of prayers, of 'I'm good and you're bad,' of moral regulations."
He also spoke about the modern world's "throw-away culture," something that has come up repeatedly in his speeches and writings.  "The youth become part of the throwaway culture and all of us know that today, in this empire of the god money, things are thrown away and people are thrown away."
This, of course, includes the unborn. "Children are thrown away, because they are unwanted, because they kill them before they are born, the elderly are thrown away—I'm speaking of the world in general—because they don't produce anymore."
For those "existentially sad" young people, Francis had one more piece of advice: "be capable of creating social friendship."